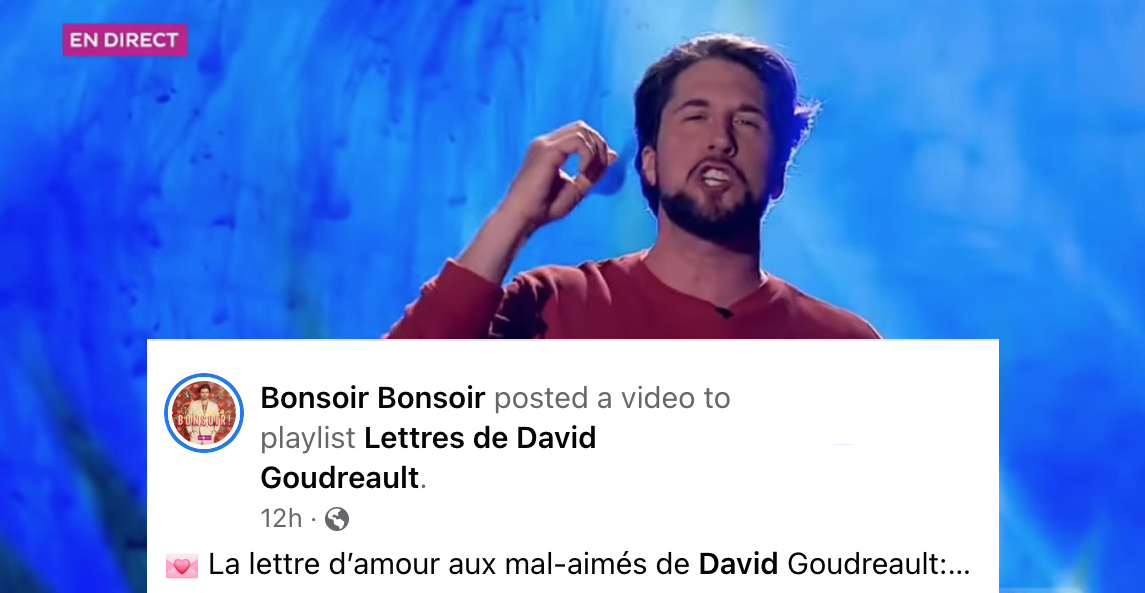 David Goudreault writes a love letter to the unloved
It was the return of the popular show Bonsoir Bonsoir on Radio-Canada. For the occasion, Jean-Philippe Wauthier received on his set Louis-José Houde, Colombe St-Pierre, Florence Longpré and Maude Audet, Ariane Roy and Rosie Valland who sang Daniel Bélanger.
It was also the return of David Goudreault's letters. For his first performance of the season, David read the love letter to the unloved, and we can say that he is still impressive in his mastery of words. We invite you to listen to the segment while reading the text.
The love letter to the unloved by David Goudreault
We don't need you
But you, maybe you need a love letter to the unloved
At the poqués, accustomed to eating misery and pasta
Even that sometimes it lacks pasta
To the poorly caring, who lacked intention
To the last chosen ones of the class
To the one who teams up with herself
Always a little apart, at the children's table
At the office of shrinks, to treat the syndrome of the excluded
Do you understand? We don't need you!
To the clumsy, to the clumsy
In the far center, shovelfuls of clouds that get lost in the shades
Who find their ideas in no party
Those we mistreat, those we treat as conspises,
Who worry on the net or in convoys of trucks
And who keeps this funny feeling
That we don't care about their anguish and their mouth
That we get dizzy from looking down on them
You're not wrong, for real, it's very not wrong...
We don't need you!
The one who puts so much water in her wine that it tastes like nothing
The one who lacks dope or dopamine past noon
Those who struggle to get up between two relapses
Those who serve their time, those who lose it inside
Donnacona, Joliette or Bordeaux
Behind the small screen, prejudices or bars
To the separated from the pandemic, to the ignored by the CPU
To artists, self-employed workers
Who bet everything on the effort, and who lost everything
Those who open their hearts, even if we spit in them
Those who make lots of mistakes while writing their distress
Well no, Cynthia, "This morning, it's really bad",
it doesn't take s
Hey, we don't need you!
Those who find themselves too common
Beige life, 5 foot 7, brown eyes
Always dead last, who would dream just once of being number one...
Or two or three or four at worst!
Worse you who take a step too far, a step wrong
You forgot to take yourself seriously
Between two good books, you wrote a bad verse
Wait a minute, I know the chorus
Pass the caravan and bark the dogs
If everything goes wrong, everything can only go better
But there are mornings when the horizon
Sees no further than the end of its nothingness
Stay in bed, pass your turn, don't pass, ask for nothing
We don't need you!
Your mourning is too heavy, you stink of injustice
You lost your joy of living
Somewhere, in a corridor of Ste-Justine
In the arms of a monster, at the back of a bar
Wait, catch your breath, it will pass
And if it doesn't pass, suffer, but it won't pass you
Don't die for nothing, don't die for them
Don't hang yourself at the end of your chess string
You don't know what tomorrow will bring
No one is immune to a good idea, a great love
Seems you can even learn to love yourself
We don't need you, we already have a thousand suicides per year
In Quebec, more or less 3 per day, every day
A suicide every 40 seconds in the world
The corpses of despair in excess, we don't need you!
Wait, live a little longer, stronger, less hurt, otherwise
But don't kill yourself
Maybe you forget him, or you just have to meet him
But somewhere, someone needs you.
***
24/7 suicide prevention line:
1-866-appelle / 1-866-277-3553