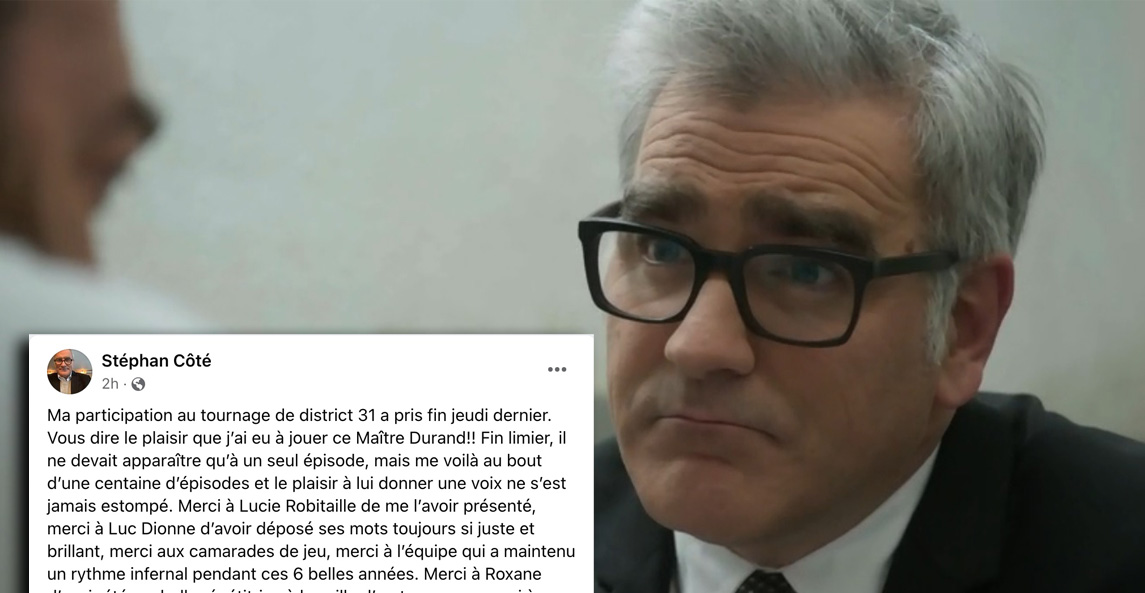 It's over for Master Durand in District 31
As we know, District 31 is soon ending its last season. Several actors will quietly leave the show until the last episode. This is the case of Maître Durand played by the actor Stéphan Côté. He decided to address the fans of the show to share his happiness to have played in such a beautiful series and he took the opportunity to thank the whole team and the viewers.
We can read in his publication: " My participation in the District 31 filming ended last Thursday. To tell you the pleasure I had playing this Master Durand!! A sleuth, he was only supposed to appear in one episode, but here I am after a hundred episodes and the pleasure of giving him a voice has never faded. Thank you to Lucie Robitaille for introducing it to me, thank you to Luc Dionne for having left his words always so fair and brilliant, thank you to the playmates, thank you to the team who maintained a hellish pace during these 6 beautiful years. Thanks to Roxane for being my beautiful coach on the eve of a shoot, thanks to Manon Clément for always knowing how to handle my unavailability in such a human way and a last thank you to you, assiduous and passionate viewers, each of your words , each of your smiles either on the networks or in real life was a great recognition and a great complicity. Happy end of season to all of you and looking forward to seeing your reactions at the end of this final season. Prepare your tissues. ».