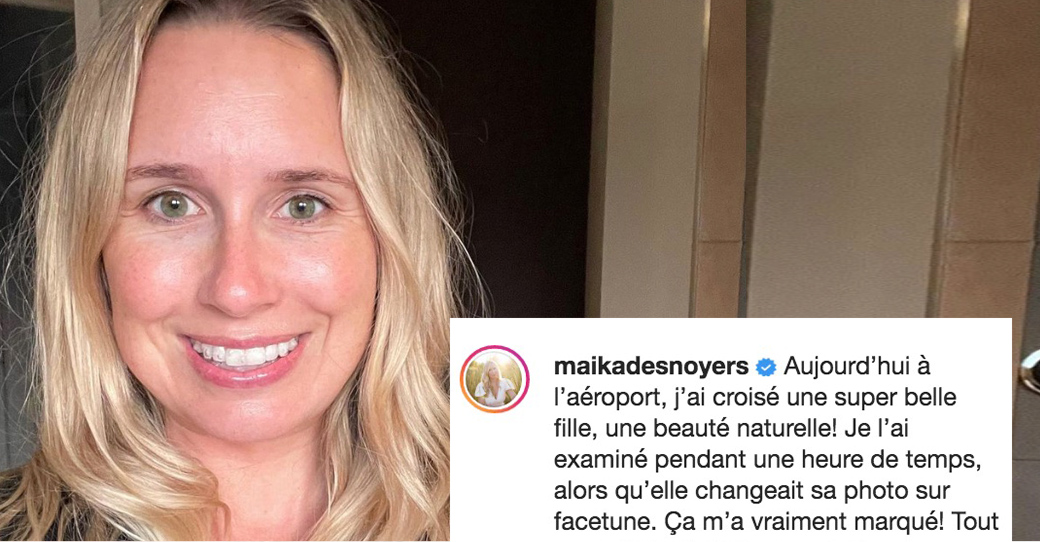 Host Maïka Desnoyers tested the beautyplus application and hated it
Maïka Desnoyers made a publication denouncing applications that modify your face on a photo like Facetune. She talks about accepting yourself, loving yourself and avoiding falling into applications like this. She decided to do a test, the first photo Maïka used an application and the second she looks natural.
Here is his message: " Today at the airport, I met a super beautiful girl, a natural beauty! I examined her for an hour of time, as she changed her photo on facetune. It really marked me! Everything that made her what she really is no longer existed in her photo. I couldn't figure it out… so I decided to download the app, to give it a try! The photo you see is the one with the beautyplus app and the 2nd one without the app! I had just come home, I took off my makeup and did my skin care! My face in the 2nd photo is clearly less perfect, but it's mine! This is who I am… on the other hand I understand so much the appeal of these applications! In 2 minutes, I was wearing makeup! It's not easy, but we have to learn so much to love and accept ourselves. Filters / apps give us a false image of ourselves and that's when we end up no longer loving ourselves, because we don't recognize our reflection in the mirror. ».