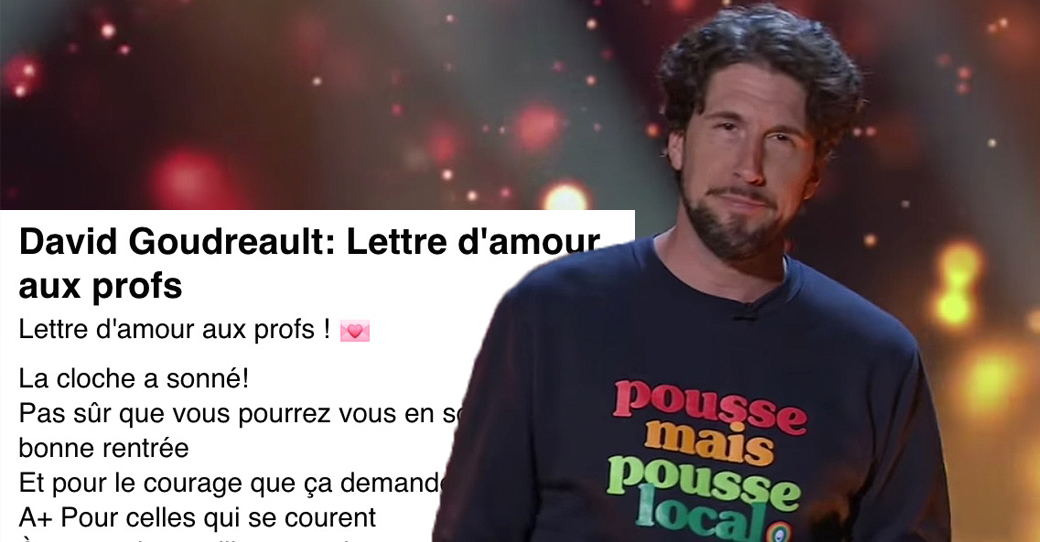 David Goudreault makes a superb love letter to teachers
As part of the program Bonsoir Bonsoir on Radio-Canada, David Goudreault wrote a new letter. This time, he paid a brilliant tribute to the teachers. He gives notes in his text, but above all he gives a lot of love and encouragement to all the teachers who are starting back to school.
Read also: Teachers who no longer know how to position themselves to be well
Read also: 12 funny homework responses that surprised teachers
Love letter to teachers by David Goudreault
The bell rang!
Not sure you'll be able to get by, but have a good start
And for the courage that it takes
A + For those who run
To find the best angles to animate their lessons
Who give themselves without counting and who counts in their community
Those who missed young people from mid-July
Or who decorated their class from the beginning of August
D- to all those whose brain will return from vacation towards the end of November
And who will chew on their old lesson plans
Will ruminate on their instructions
Like a beautiful Holstein in the field ... of studies
A + For the future of young teachers who are thinking about dropping out
Disgusted to wait for a job
But who hang on for their students;
Don't let a flowchart suffocate you
We need relief
C- exciting when you think of ventilation problems
Yeah, the faculty are struggling to breathe
To find space, air to create, teach in your own way
Suffocated by a lack of confidence and contradictory instructions
-Mr Roberrrrrge, take the time to do your homework-
F-ffffff-fff-ff… A + to professionals and support staff
To whoever will make the extra effort
For the one who blossoms less and less
To shrinks, CO, API, TS, Educator
Who welcomes, accompanies, protects and intervenes with our flos
Whether they are lost in a corridor, or in existence
The troubled little one that I was
Thank you for taking the time to make a difference
A + to all schools that make food local
Who transmit the love of culture and agriculture
Who organize outings to farms in Beauce or on the rooftops of Montreal
And A ++ to schools, too rare
Who invest so much in science and the arts
That they do in sport
Got trophies, tracksuits, gyms and a 90 yard field
Ben viarge, build labs, gardens, plastic arts premises
And organize artistic trips
For exactly the same amounts!
Cenne for cent, 100%
Your students have a better chance of hooking on bio or poetry
Than to become the next Gretzky
A + to executives
Who give time to teachers to chat with young people in the doorway
Still crazy, you see our children more often than us
So A ++ to the teachers who will help them develop their critical thinking
Rather than criticize everything
Who will present the versions of all parties
Without falling into the propaganda or the ambient ideology
Who will find this fragile balance
Between the transmission of knowledge
And the birth of a free spirit
I let you return to the front
With or without mask, helmet or plexiglass
A + to the great teachers who raise the future of the world
Leaning towards our children
I say thank you, and See you!