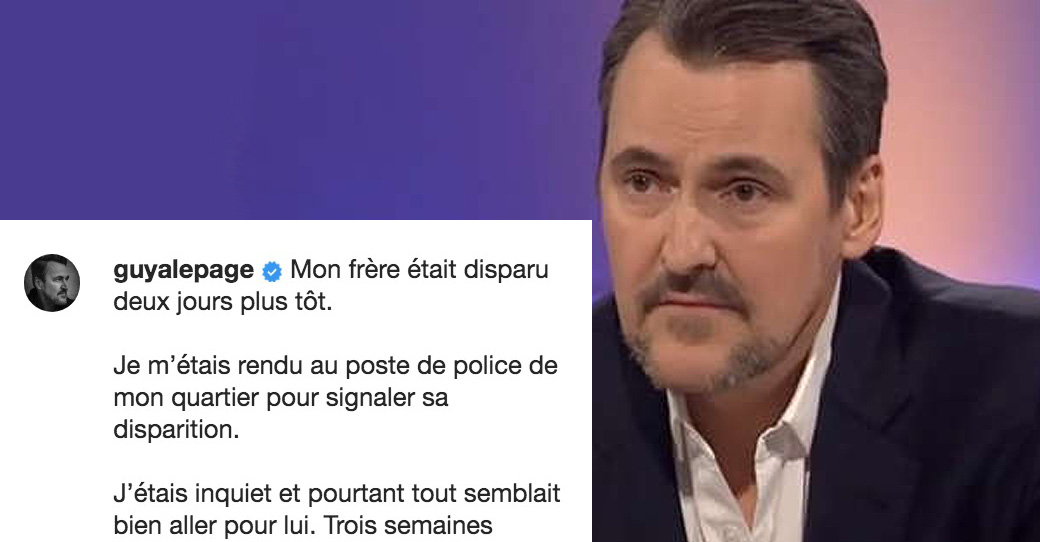 Guy A Lepage publishes a touching message on the story of his brother Bruno
Guy A Lepage wrote a touching post on social media about his brother. We learn about Bruno's story, how Guy learned of his death and why he's telling us about it today. A powerful message from the host of Everyone's Talking about it, and he concludes with this sentence: " Suicide is a definitive solution to a temporary problem. Suicide Action: 1-866-APPELLE ".

His publication:
« My brother had disappeared two days earlier.
I went to my neighborhood police station to report his disappearance.
I was worried and yet everything seemed to be going well for him. Three weeks earlier, he told me that his wife was pregnant and that he would like me to be the godfather of his child. My brother was very fond of children (he adored my son Theo) and his voice was happy on the phone. I accepted, of course.
The police called me to tell me to go to the corner of Henri-Bourassa and Pie IX. My brother lived not far away. When I got to the meeting place, a policeman was waiting for me in an unmarked car. He led me to the edge of the shore making a big detour to avoid the many onlookers looking behind the security lines.
I was taken into a tent and introduced to a coroner. My brother's body, recovered from Rivière-des-Prairies, was lying on the ground. I had to identify it which was very difficult because the water had already taken its toll. His wallet and clothes, however, were his.
My brother was schizophrenic. He had had several difficult episodes in his life but for the past few years he had been on medication. For some reason, he had stopped his medication a few weeks earlier. His demons reappeared. He decided to drive them out for good.
It's been 25 years today.
Suicide is a definitive solution to a temporary problem.
Suicide Action: 1-866-APPELLE
Bruno Lepage (1963-1996)»
See this post on Instagram