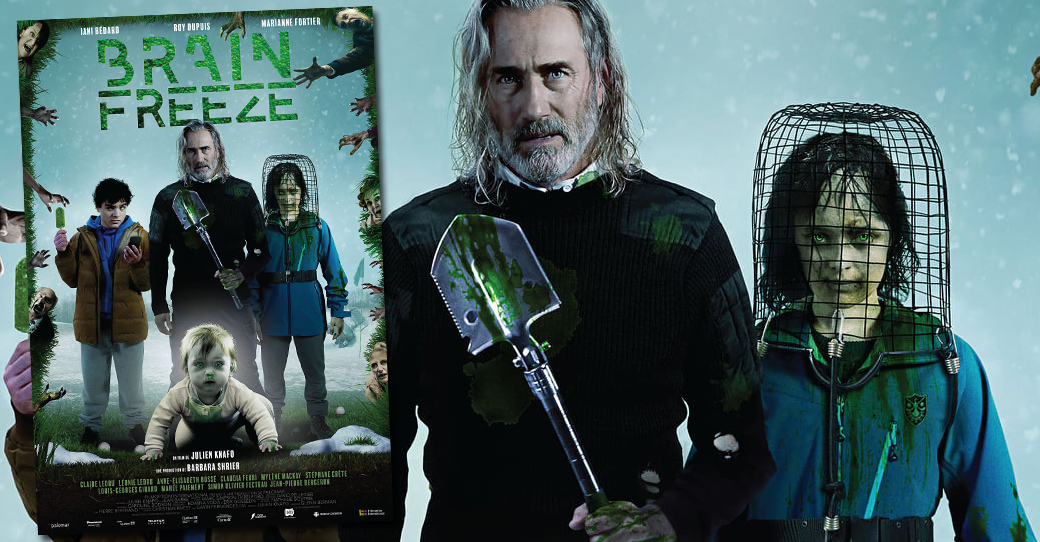 The Brain Freeze Zombie Comedy Trailer
On August 13, you can see the zombie comedy Brain Freeze in theaters. This Quebec film is likely to make a lot of noise, the trailer is simply delicious! We find in the film several famous actors / actresses: Roy Dupuis, Iani Bédard, Marianne Fortier, Anne-Élisabeth Bossé, Simon Olivier Fecteau, Mylène Mackay, Stéphane Crête, Mahée Paiement, Louis-Georges Girard, Claudia Ferri, Marie-Lyne Joncas, Jean-Pierre Bergeron, Claire Ledru and Léonie Ledru.
Synopsis: At the beginning of winter, in an upscale enclave where leisure and money know no limit, a golf club gives the contract to an unethical multinational to genetically modify its grass in order to remain open to the year. The water of Île-aux-Paons thus becomes contaminated by a "revolutionary" fertilizer which has the advantage of melting snow, but transforms its inhabitants into mutants. Before his eyes, André, 15, saw the outbreak of the devastating epidemic which made him an orphan. Horrified, he must fight for his survival and that of his sister, a one-year-old baby, when he meets Dan, a security guard and a poor 50-year-old survivalist. Faced with the emergency, André and Dan will launch an investigation which will lead them to the chalet of the Golf Club. But this will not happen without losing some feathers in the process ...