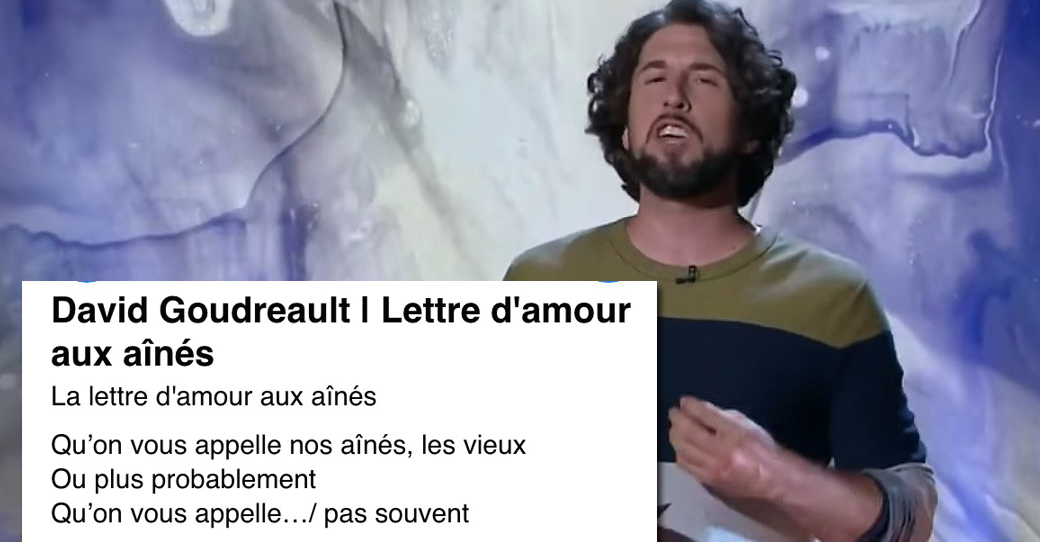 David Goudreault creates a sensation with his letters to the elderly
David Goudreault often writes letters when he is on the program Bonsoir Bonsoir on Radio-Canada. His most recent letter is very successful on the web. It is intended for the elderly. Another touching text for those who know how to have fun with words to perfection.
David Goudreault | Love letter to seniors
Call you our elders, the old
Or more likely
That we call you ... / not often
This love letter is for you
Who are today what tomorrow we will be
Who were yesterday, what we are
Old age is an autumn
Leaves, like friends and the future, fall to the ground
And reveals the structure of the tree, the heart of the being
If young people all have their lives ahead
Seniors have their whole life in it
Humility too, they don't yell at their wisdom
Do not impose their knowledge
Even after living
Survived economic crises, October crises
Oka crises, ice storms, Covid screeches, etc.
They remain discreet, they remain modest
They watch us wash away with our old ideas
And our modern bullshit
They know well that we do what we can
Maybe they wouldn't do better
We already blame them a lot
Make room, colonizers, ok boomers
And other fashionable forms of ageism
A posteriori, too easy to condemn
"We will no longer make the mistakes of the past!"
obviously
Since we have both feet in the errors of the present
Tomorrow is far away, but not so much
Isolation, fraud and abuse
Hang us on the corner of wrinkles
When our calendars fill up
Our lives are emptying
The gaze leaves the eyes, from the skull flows the face
The face loses face, already old
The world is shutting down, the world is taking care of us
We consult less and less about ourselves
We become socially exceptional
So they settle down, the old people
Let themselves be piled up silently
They don't wanna cause trouble
If youth knew what old age could
Relational intelligence
Stories, a more human rhythm
RAM and living memory for our software
And our logic often failing
Me, I find them easy to love, the elders
Don't believe that you insult me
If you imply that I have an audience of old matantes
Are funny and brilliant, t'sé, the matantes
But do you know that in my fans
There's also your little cousin and your wife
Anyway
Time does not matter
There are teens old idiots
Young geniuses on a walker
And bedridden kids
So bring some Francine Ruel, Jeannette Bertrand, Michel Tremblay, Joséphine Bacon and Gilles Vigneault
Our screens are missing
May your word not be lost in the echo
Hollow thoughts
You are far from being idiots, far from being settlers
You are the columns of a temple that still houses
Something like a great people
We will not count any lies
Aging has its share of inconvenience
And disintegration
But between the weakening bones
Sight and declining life expectancy
There are still the good times, the love lived, the children
The struggles won, and those to be waged
Wealth is in the heart
But fortune is in the head
Through links, shared values
The story we carry
And everything that brings us to live until tomorrow
The day is still young
When the spirit is awake
Age is sleeping ...