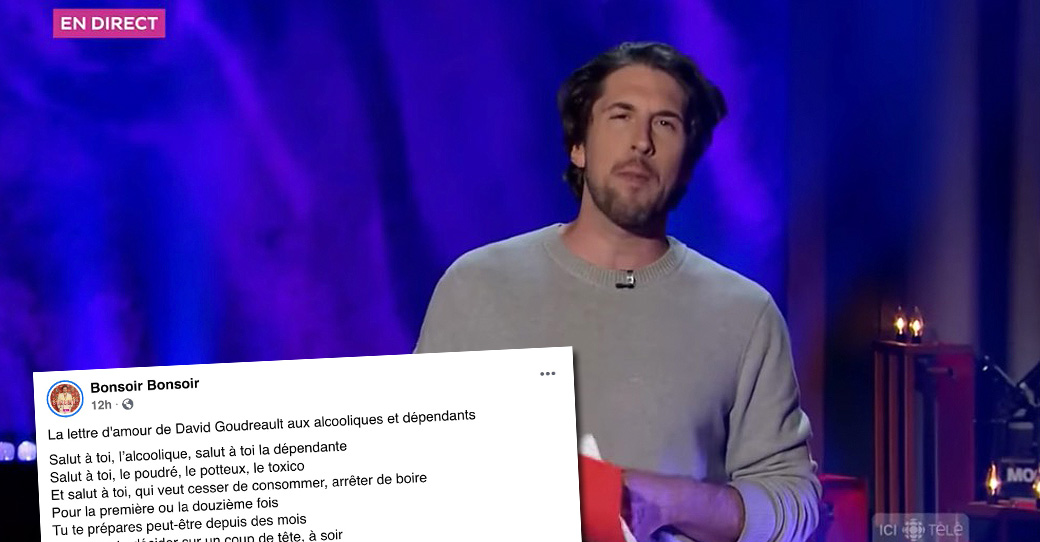 David Goudreault writes a letter to alcoholics and addicts
The excellent and talented author David Goudreault was on the program Bonsoir Bonsoir to recite a letter to alcoholics and addicts. With a background of soft music, we can listen to David deliver a hard-hitting, touching and meaningful text.
Here is David Goudreault's text:
Hi to you, the alcoholic, hi to you addict
Hi to you, the powder, the potty, the drug addict
And hello to you, who wants to stop drinking, stop drinking
For the first or the twelfth time
You may have been preparing for months
Or you will decide on a whim, see you tonight
You might just be sick to be sick of lacking a heart
Miss your appointments, be missing
Or you just hit the bottom of the bottom
You hit your kid, or you hit the pole of reality with your chariot
Anyway, it's not too early, but it's never too late
"I can stop when I want"
Easy to say, when you don't wanna stop
Between being tipsy at 5 to 7 or wiping your face from 7 to 5
The equation is simple
But the hour has come, forget the 28 day challenge, it's 27 days too long
One thirsty day, one day at a time
And even an hour at a time if necessary
If all are born equal, there are some who have more ego than others
Ox front, pig's head, we're good at sabotaging everything
It won't be easy, it won't be magic
Ok, your distress is exceptional, you are unique, but you are not alone
We are millions who struggle, who seek to survive, to avoid relapse
And me the first, dependent, non-practicing alcoholic
For 12 years, 7 months and 11 days without a drop
And the bottle is watching me, again
The vast void pegged to the body, I advance as best I can
It's better than it was, but it's far from perfect
You know, when we consume, life is really heavy
But I swear to you, when you stop consuming, life is really big ...
But less, for your loved ones already, who may have needed to pick you up
And pick up your mess
Who can trust you again
There are so many promises that you haven't kept
You look like a target for the climate, good intentions from the un
It's less painful for your body too, for your bank account
For your employer, your friends, your neighbors, your loves and your face in the mirror
You will see… Clearer
Quietly, you will take over
Stop sleeping on your feet and start dreaming again
Better you will make your dreams come true
Go to the end of your studies, your projects, your relationships or your poems in 'tévé
Anything is possible, in our ranks of resilient magans, there is a bundle of genius
From Churchill to Marguerite Duras via Edgar allan Poe
You are not your madness, nor your faults, nor your illness
It explains, but it doesn't excuse anything, you're responsible for what you do with it
Not easy to thaw at the fret
Go get help, a little human warmth
Keep an open mind, go into closed therapy
Or go see a shrink (chologue, chiatrist or chopathe)
Go meet you in a church basement, plastic chair, gray cafe
And all the reception of NA, AA, GA, CA, etc.
Take all possible means to heal your heart, your head and your addiction
You are more beautiful than you think, you are more beautiful than you think
And if one day our roads cross
I will be happy not to have a drink with you!