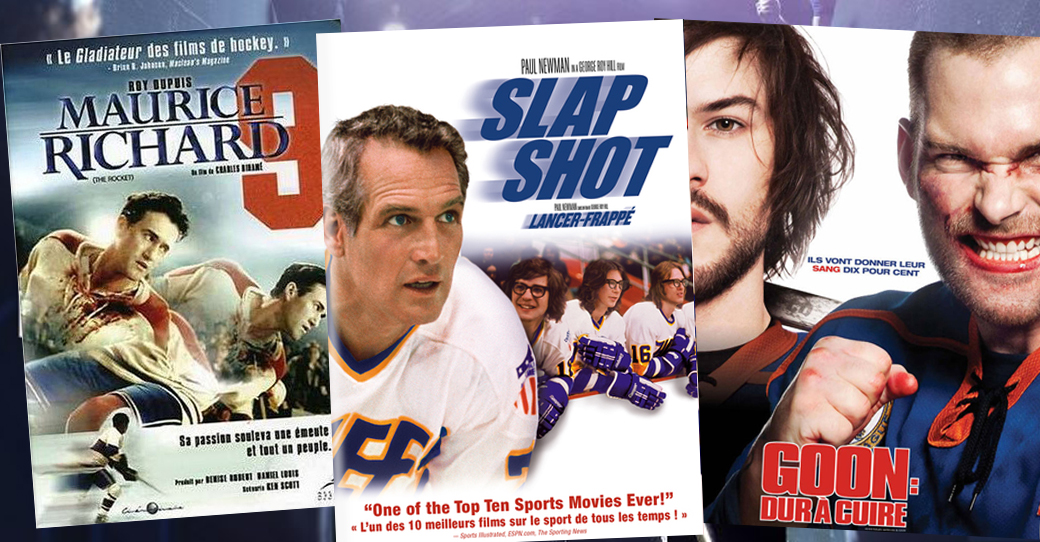 The 10 best hockey movies to watch
You're looking for a good hockey movie to watch, but you don't know which one. Here are 10 must-see hockey movies. There is something for everyone: comedies, historical films, classic films ...
1. Slap Shot
This cult film, which explores the world of professional ice hockey, has been hailed as "one of the ten best sports films ever made!" ". Paul Newman plays the role of coach of the Chiefs, third-rate hockey team ...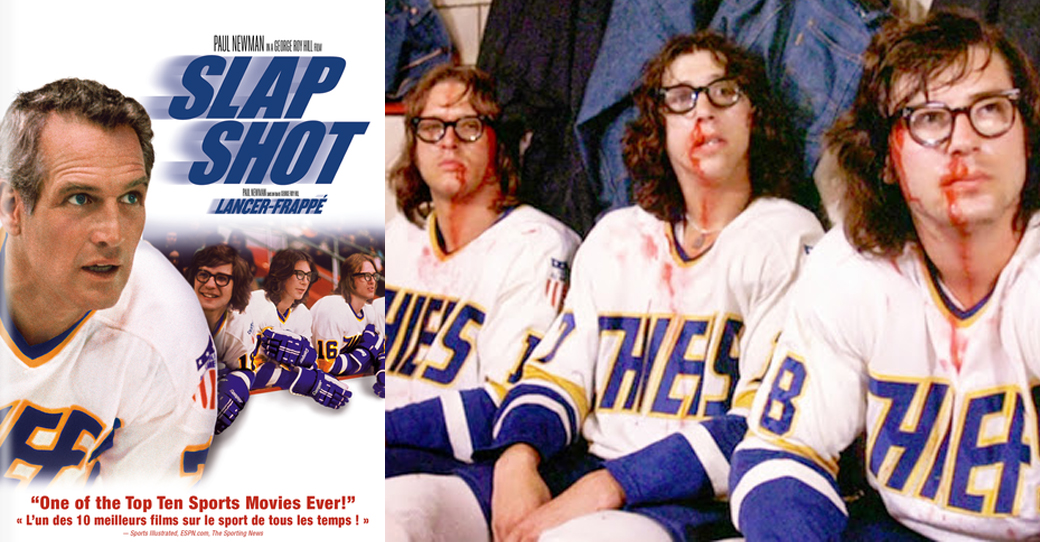 2. Maurice Richard
After a difficult start to his career marked by various injuries and strained relations with his coach Dick Irvin, Maurice Richard, Canadian hockey player for the Montreal team, acquired star status. His exploits nourish the aspirations of the French Canadian people. Maurice Richard remains despite everything a man of great humility. He leads a peaceful life with his wife Lucille and his children. Not very talkative, he prefers to express himself on the ice, where each of his appearances arouses clamor and emotion. However, his characteristic ardor sometimes causes him trouble. In 1955, he was banned from the playoffs for hitting a referee. Outraged, his supporters take to the streets to protest. When the demonstration turns into a riot, the hockey player must intervene on the radio to calm the population.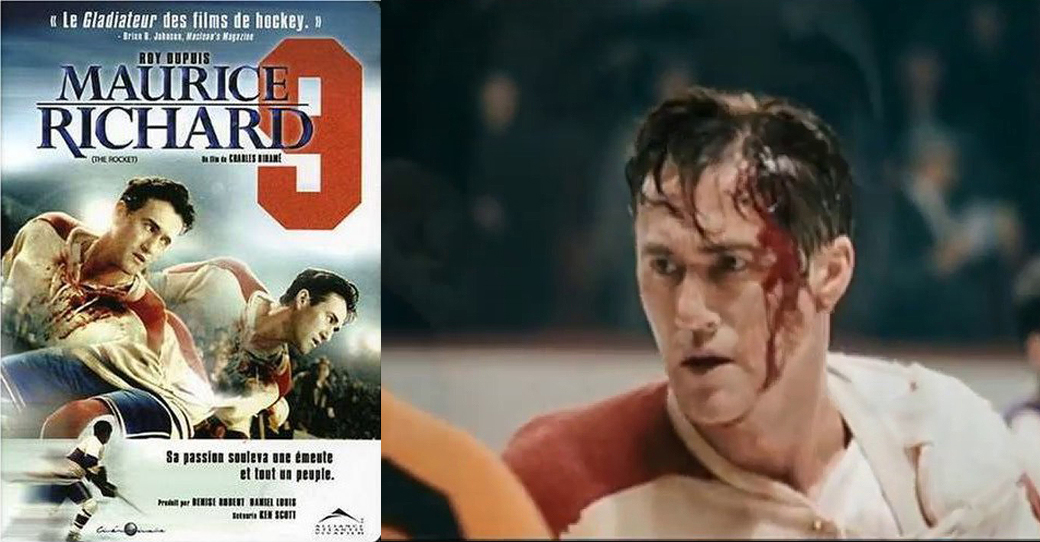 3. Les Boys 1, 2, 3 & 4
Stan, owner of a tavern, has to pay a large gambling debt. To get out of it, he accepts that the hockey team he coaches faces that of his debtor. Stan's guys, all customers of his tavern, don't have the necessary experience and are very different from each other. The game promises to be difficult and the guys will have to count on luck and use sometimes dishonest tricks and above all, have a heart in the stomach to win.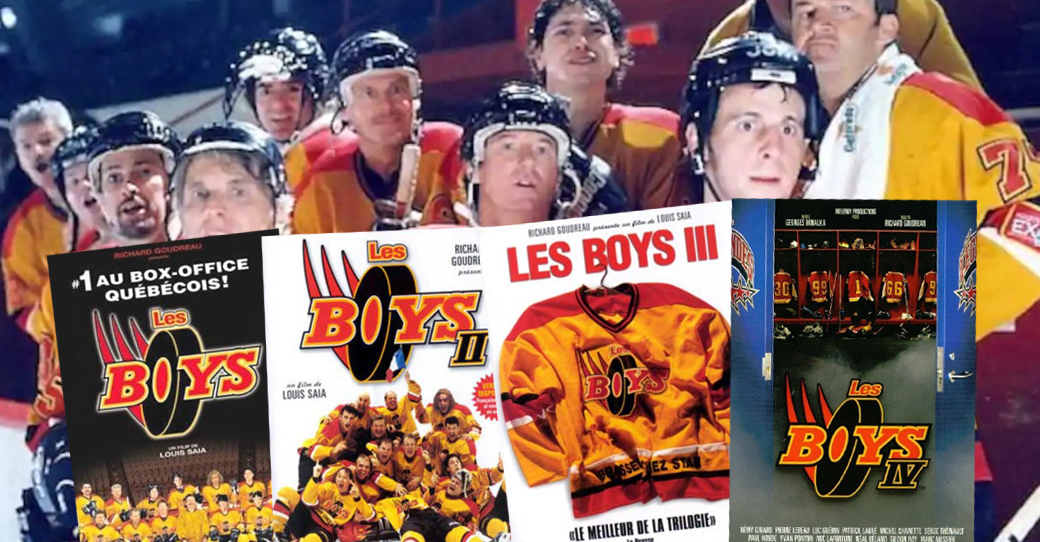 4. Badass 1 & 2 (Goon)
Doug Glatt (Sean William Scott), a black sheep from a famous family of doctors, makes a living as a bar bouncer. His friend Pat (Jay Baruchel), a hockey fanatic, invites him to attend a home game that quickly turns to a brawl, when he pushes an opposing player to climb out of the penalty box to chase him into the stands. Doug intervenes and knocks him out effortlessly, a feat that earns him an invitation to the team. Following a trial period during which he beat up most of his teammates who had the misfortune to make fun of his skating skills, he was hired. However, the Halifax Highlanders, a major junior club, are desperately looking for a player of his caliber to protect their star scorer, Laflamme (Marc-André Grondin) who is drowning in alcohol, since the league's bully, Ross Rhea (Liev Schreiber), violently put him out of the game. Doug is traded and soon makes his debut with the Highlanders, life in the locker room will change with the arrival of Doug. Ross, who was failed in the minor leagues after yet another altercation, decides to leave the ice crowned with glory, Doug and Ross will meet in a final fight.
5. Power play 1, 2 & 3 (The Mighty Ducks)
Gordon Bombay is a successful lawyer from Minneapolis who always goes out of his way to win. Arrested for driving while intoxicated, he was sentenced to community service: to become an ice hockey coach, a sport he hates above all else since a certain decisive game lost in 1973 when he was a child. Gordon is very reluctant but has to comply with the wishes of his cabinet boss, Mr. Ducksworth. He is scheduled to coach the Minneapolis-Saint Paul Peewee (5-11) 12th District Team. This team always finishes last in its division, every year. Ironically, Gordon's first game is against the Hawks, his former team. The 5th District team suffered a stinging 17-0 defeat. Not at all motivated at the start, Gordon will gradually gain the confidence of his players. He mainly bonds with Charlie Conway, a young boy who lives alone with his mother, which reminds Gordon a lot of things. The 5th District team was then renamed "Ducks" in a nod to Mr. Ducksworth, whose firm provided all of the equipment. The team improves its results and is in the race to advance to the playoffs.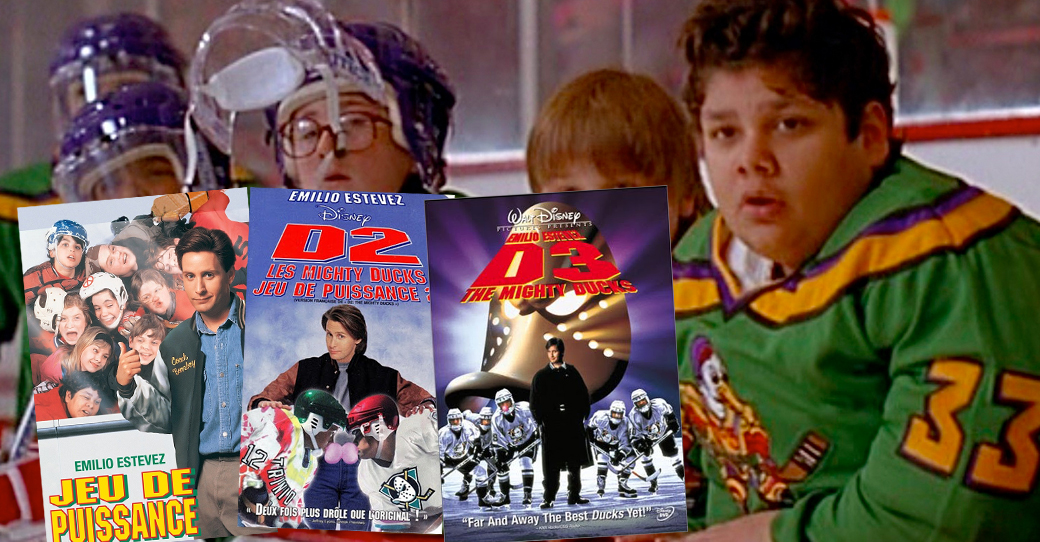 6. Mystery, Alaska
Mystery is a small Alaskan town isolated from the rest of the world, where winter temperatures are extreme and ice hockey is more than a national sport. The whole city is in turmoil when the local hockey team has to face the famous New York Rangers… An event that turns the whole city upside down, an opportunity for residents to put their petty quarrels aside.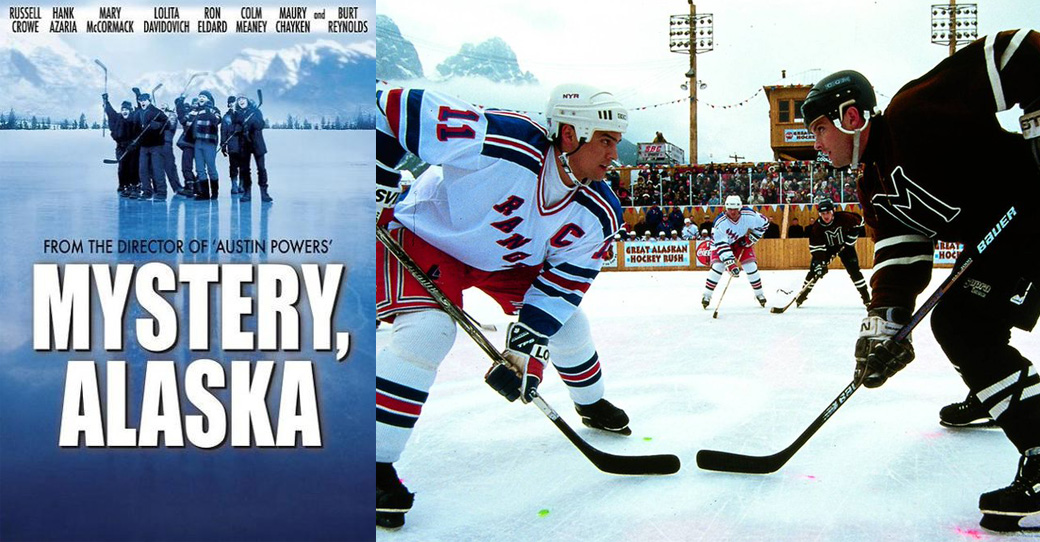 7. Youngblood
Young hockey player Dean Youngblood discovers high-level ice hockey in the lobby of the National Hockey League. Dean Youngblood is 17 and when he's on ice skates he doesn't fear anyone. Determined to join the National Hockey League, he joined the Canadian Hamilton Mustangs, convinced that his skill on the rink would earn him the admiration of the crowds. But Dean quickly discovers that the speed and agility of his game are no match for the energy and anger of the Thunder Bay Bombers team. With advice from Mustangs captain Derek Sutton, Dean will learn that speed isn't enough and that being the best comes at a price.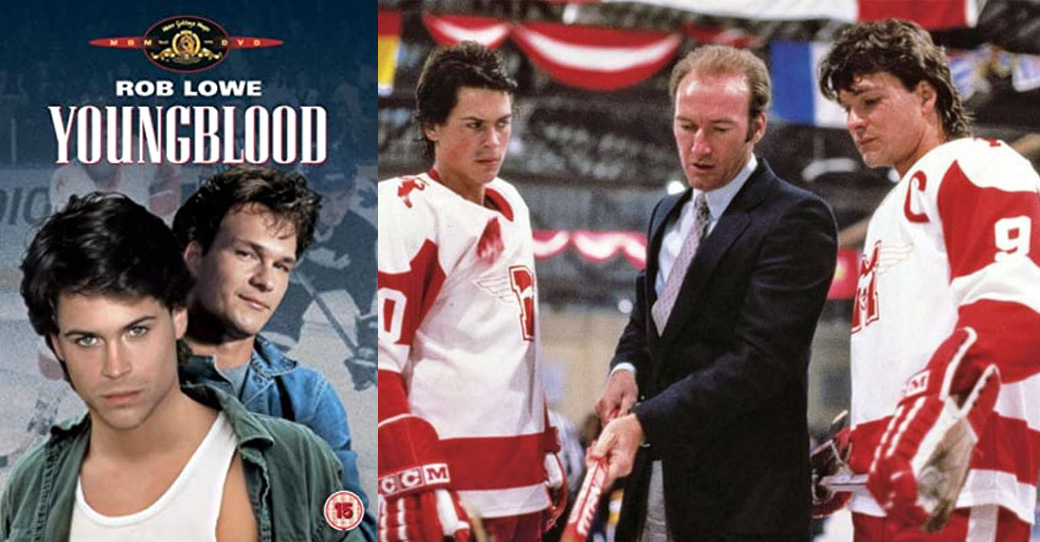 8. Miracle
Seven months before the 1980 Winter Olympics in Lake Placid, Herb Brooks was appointed coach of the United States hockey team. In 1960, then a player for American training, Brooks suffered a crushing defeat against the Soviets, who have since established their supremacy on the ice. Obsessed with the idea of ​​defeating these arrogant champions, the coach takes all means, some of which are disputed, to put together a team of seasoned and highly motivated young players.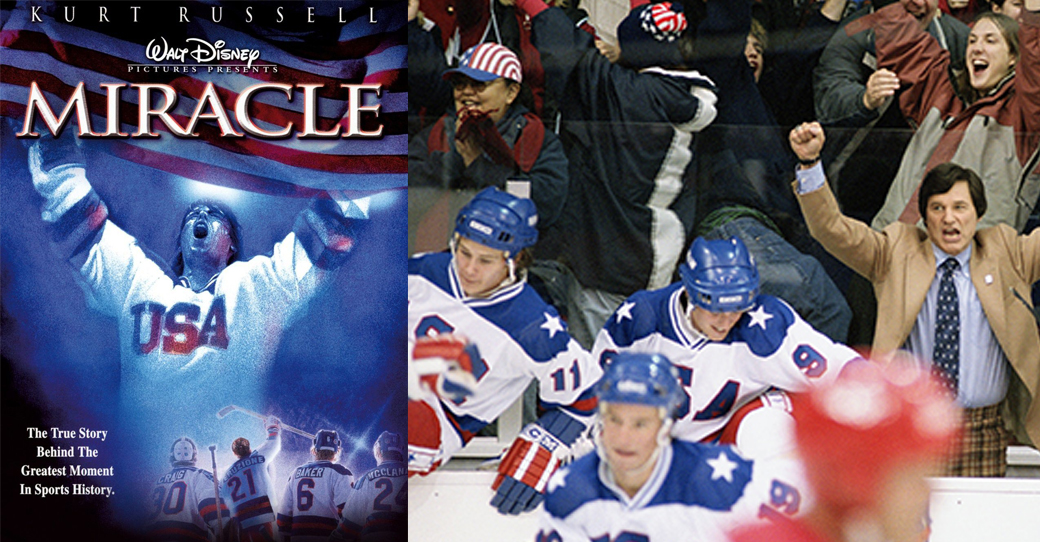 9. Start and Count the movie
A small town in Lac St-Jean vibrates to the rhythm of hockey. When the match is over, the National players sign autographs and get on their bus. Then begins the long hike between Roberval and Quebec. In the curves of Mount Apica, it's a disaster. The National bus rolls over on a hill… Terrible toll, half of the team lost their lives. An arduous task now awaits the National: to rebuild itself ...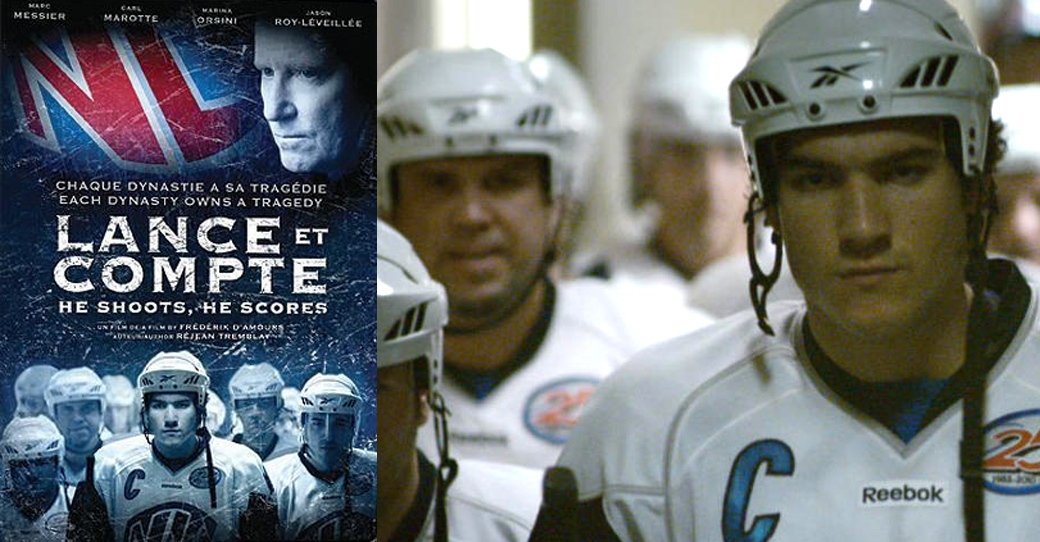 10. Tomorrow of men
Demain des hommes tells the story of the ups and downs of a team from the Quebec Major Junior Hockey League (QMJHL), the Draveurs de Montferrand. Players come from all over. Some are on their way to professional glory while others will never see the color. Demain des hommes is a Quebec television series in 10 44-minute episodes broadcast on ICI TOU.TV