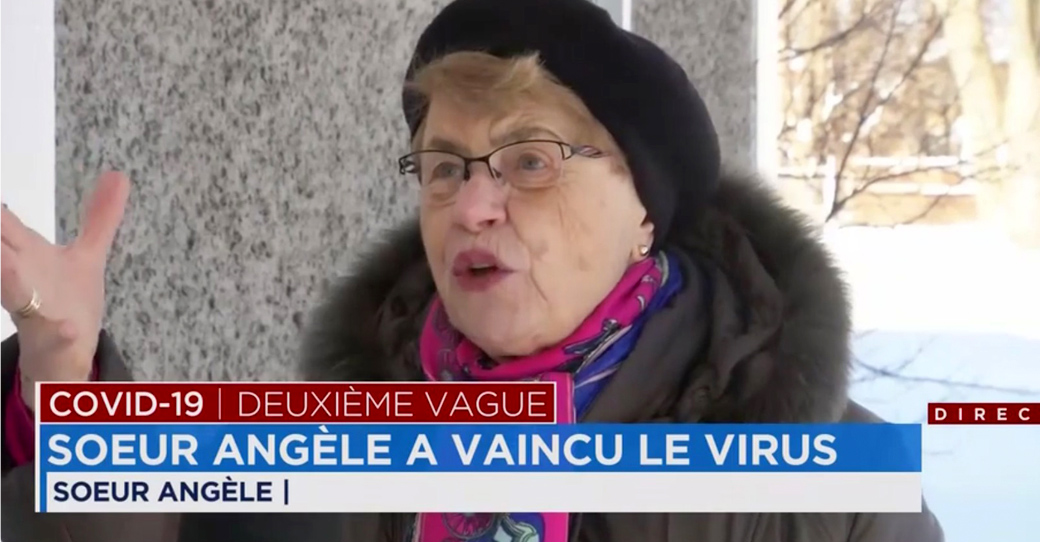 Sister Angèle explains that she conquered COVID at 83
In a report by journalist Harold Gagné on TVA, Sister Angèle claims to have conquered COVID-19 at the age of 83. The nun says she feels much better after having had symptoms for five to six days. She says in the report: "When they told me I had it, I thought I had a head cold. I had a headache, but not that much. At first, I had a headache and I said: "For me, they picked up all the crabs from the sea and they put them under my hair"».
She also explains having lost the taste during a meal of mashed potatoes with carrots and salmon. The taste of his mixture repelled her.
The smiling Sister Angèle transmits a message of hope: " When you take care of your mind, you don't have time to think that there is something wrong. Everyone is negative and wonders when are we going to get out of this. But I am a child of the war, I have seen the war, the bombs, I have been under the bombardments. We were proud to have conquered that and to be still alive! »
She ends by saying that she can't wait to be vaccinated. She takes the opportunity to invite Quebeckers to stand firm and respect health measures.
We invite you to watch the report by Harold Gagné.