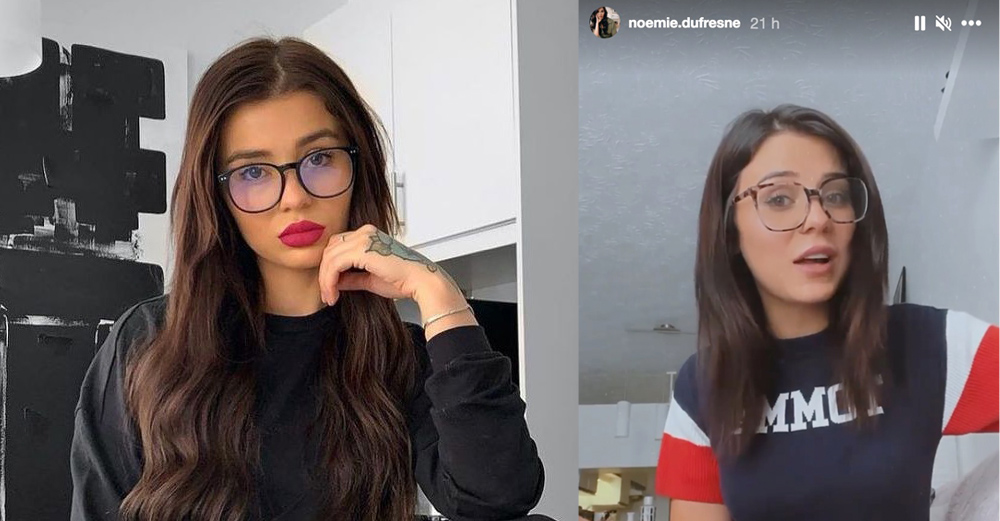 Influencer Noémie Dufresne opens an OnlyFans account
In a series of Instastories, influencer Noémie Dufresne announced that she was opening an OnlyFans account. This popular platform, which was popularized in Quebec by YouTuber Lysandre Nadeau, allows you to put photos and videos on subscription. Other social networks do not allow you to put this kind of content online.
Read also: Lysandre Nadeau explains her experience on OnlyFans and reveals the amount she made in 1 month
See this post on Instagram
Noémie Dufresne announces her adventure on Onlyfans
Noémie explains her decision to embark on the Onlyfans adventure: " I just wanted to tell you something, in fact I decided to make myself an Onlyfans, oh my god I couldn't believe it! It's been a while since I have had a high demand with Onlyfans for months so it goes through my head, I really hesitated a lot because I was afraid of people's judgment. I tell myself that this is not a good reason to prevent yourself from doing what you want and what is nice about this platform is that you set your own limits. You can post whatever you want and what you are comfortable posting. Otherwise personally in the last few weeks, whether on Facebook or Instagram, I posted some photos a little bit sexier than usual and there were a lot of people that I found inappropriate who commented on my stuff so Honestly at this point, I prefer to do this kind of content on this platform there… worse than the people who are on it know what to expect.».
- Stories taken from the web (@pris_sur) -
She explains afterwards that she will be very active on her Onlyfans account and that she will share all her experience with Onlyfans on social networks afterwards. That being said, she will continue to post content on Instagram and Facebook. The Narcity team asked her her monthly monetary goal with Onlyfans, Noémie replied: "I would say that with $ 50, I would be happy. ".
You can access his count here.
See this post on Instagram
Several Quebeckers are on Onlyfans
There are several Quebeckers who have embarked on the Onlyfans adventure. Among the most famous people, we find: Lysandre Nadeau, Dark Phoenixx, Cassandra Plouffe, Stéphanie Beaudoin, Jade Lavoie, Sita Payette, Alye Champagne, Emmanuelle PG, Ariel Rebel, Laurence Bédard ... There is now a site that lists all the Québécoises on the platform. The site Only QC Fans is updated regularly where you can find other people who come from here and who have an account.