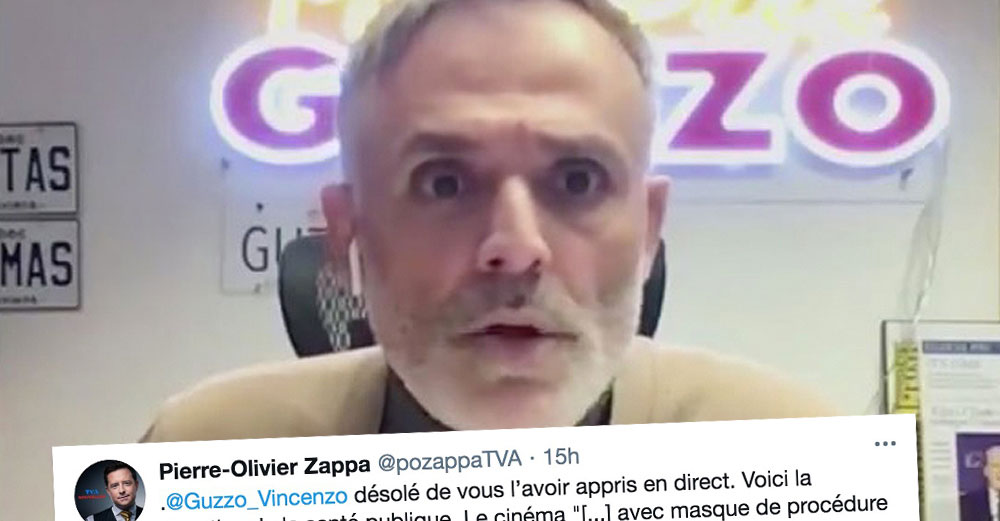 Vincent Guzzo learns live on TV that he will not be able to sell popcorn in his cinemas
It was during the program À vos affaires hosted by Pierre-Olivier Zappa that Vincent Guzzo learned that the sale of food is prohibited in Quebec cinemas. He won't be able to sell popcorn, pizza, or liquor when he reopens. We can see that Vincent does not accept this rule at all and that he is very annoyed to learn everything.
Cinemas were not informed that the sale of food was banned when it reopens. Vincent Guzzo learned about it on the show À votre affaires on LCN tonight. Several owners now intend to remain closed. #polQc @tvanews pic.twitter.com/deATmHPA4u

- Pierre-Olivier Zappa (@pozappaTVA) -
Pierre-Olivier Zappa subsequently wrote to Vincent
Pierre-Olivier subsequently wrote to Vincent Guzzo to mention that he is sorry to have told him the news live on television. He sends him the information concerning the rules for cinemas: "@Guzzo_Vincenzo sorry to have told you live. Here is the public health directive. The cinema "[…] with a procedural mask and fixed seats assigned, but no food offer or consumption in the theaters. "@tvanews».

Subsequently, Vincent Guzzo accuses the Legault government of having sent him a Trojan horse.