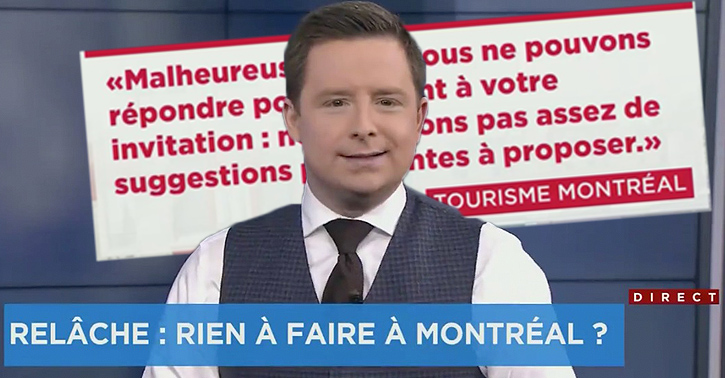 Pierre-Olivier Zappa of LCN is really surprised at the response he received from Tourisme Montréal
The journalist and host of the program "À vos affaires" on LCN, Pierre-Olivier Zappa, spoke about the activities to be done during spring break. He invited Yves Lalumière, the president of Tourisme Montréal, to give ideas of things to do for Montrealers.
Read also: LCN host Cindy Royer got a funny surprise live on TV
Read also: He is interviewed twice during the same report on LCN

In this segment of the show, Pierre-Olivier Zappa explains to us that Tourisme Montréal has nothing to suggest. He reads the response from Tourisme Montréal that he received: "Unfortunately, we cannot respond positively to your invitation: we do not have enough relevant suggestions to offer.».
Read also: LCN's Pierre-Olivier Zappa made a small mistake in his column
What to do during March Break in Montreal? Even Tourisme Montréal has a hard time finding ideas ... #polMTL #polqc pic.twitter.com/njVW4xfOJ7

- Pierre-Olivier Zappa (@pozappaTVA) -