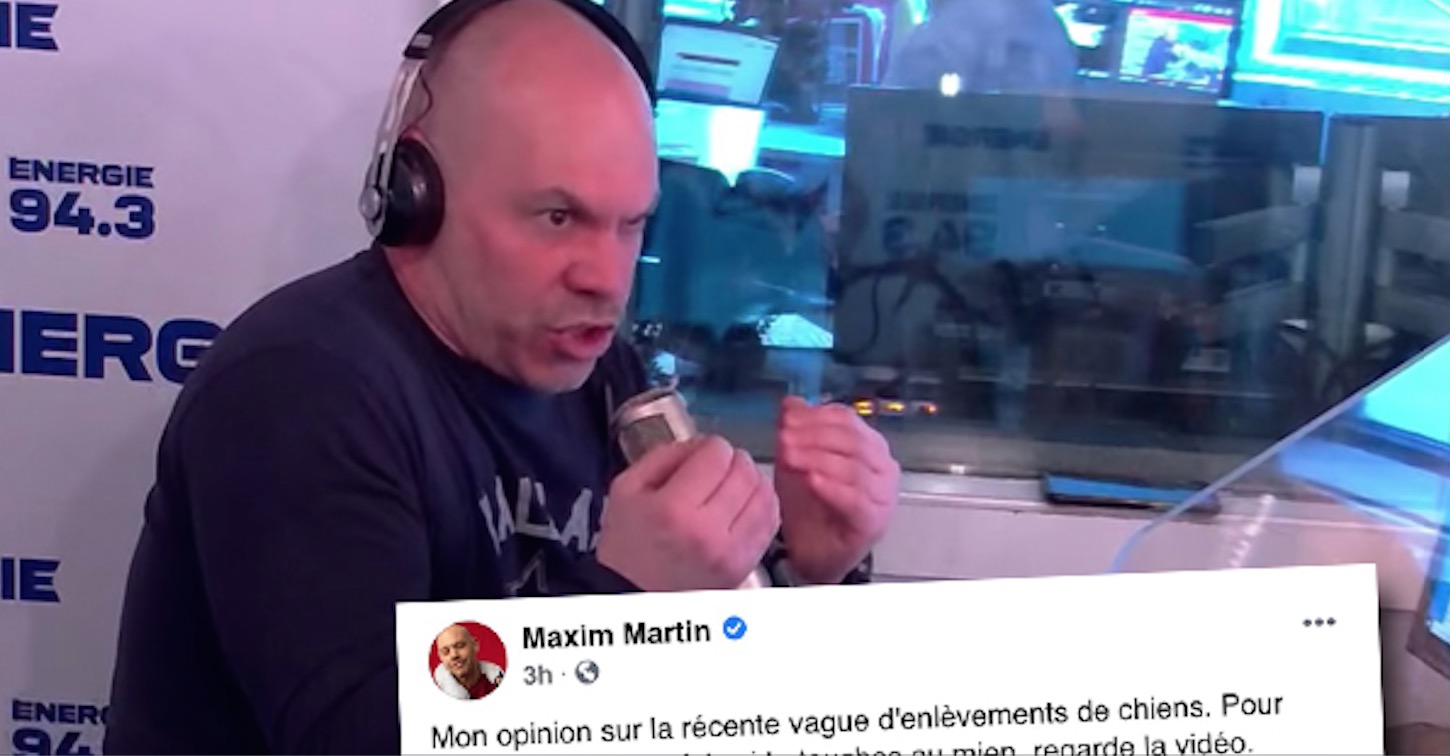 Maxim Martin breaks a bank against those who steal dogs
Comedian and radio host Maxim Martin gave his thoughts on the wave of dog kidnappings taking place in Quebec. He tried to weigh his words as carefully as possible while remaining calm because his boss was the other side of the glass.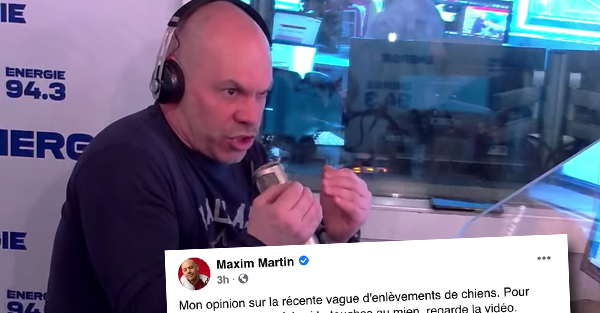 Posting the video of his segment at 94.3FM Energy, Maxim wrote: "My take on the recent wave of dog abductions. To find out what I do to you if you touch mine, watch the video. ".
Maxim Martin said on air:
"There really is a plague of dog kidnapping. Right in the neighborhood here there are four German Shepherds who were robbed. What is happening right now is that good breeders cannot provide. Apart from that obviously you have puppy mills, but even that right now it doesn't provide any more. Everything that is SPCA and company is empty because people have been looking for animals to get through the pandemic. And that makes the prices explode. There are people who pay three times what I paid.
People take advantage of it. Ah, are you in need, are you in need of affection? I will triple the price ..! Honestly, it's the raptor festival. And to come back to dog theft, I tell myself that it's not just people leaving dogs lying around in their backyards. There are people who have been assaulted while walking with their dog. Like a satchel theft. They are two, they pack you down, they leave with the dog.
Do you have to be dead enough inside and a sort of waste of society to be able to take away the only pure joy that you have in the world? Of course, it's less worse than kidnapping a child, but imagine seeing someone leave with your dog? The atrocity of the situation. Your poor dog too who must roll over and wonder what's happening to him. Dogs know who their first master is ...
Listen, I'll hang it in the public square. You touch my dog, I swear, I find a way to rip your head off but keep you alive so that my dog ​​every day kicks you in the neck and you feel it run down your throat interior. I film you and I put it everywhere before exposing your body in the public square. Is that clear enough, you vermin, bottom litter shit?
And another matter, I just want to end on this, there everyone adopts dogs or cats because we are in need of attention. There I don't want it to be like the plague of 101 Dalmatians. I don't know if you remember it, after the film everyone adopted Dalmatians, they got tired, they brought them back and they had to euthanize dozens, hundreds of dogs.
There, an animal is a member of the family. When the confinement is going to be over and we are going to be vaccinated, this is not the time to say thank you for the affection you have given me, I will take you back to where I took you. It is a lifetime contract for the life of the animal. Before I think of you guys, because I know it's tough for that innocent little beast out there… "
See this post on Instagram