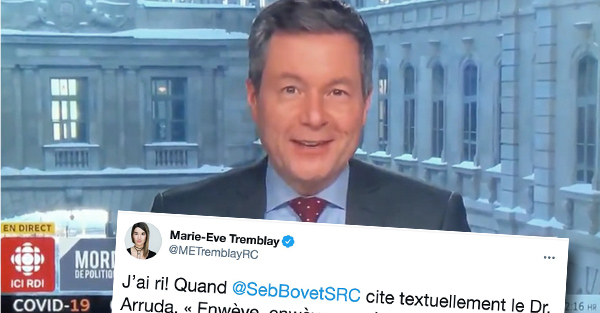 Funny moment on Radio-Canada when Sébastien Bovet quotes Dr. Arruda
Journalist and host Marie-Eve Tremblay shared a segment of the program Les mordus de politique on Radio-Canada on Twitter. We can see and hear Sébastien Bovet quoting Dr. Arruda.

Marie-Ève ​​Tremblay wrote: "

I laughed! When Sébastien Bover

quotes verbatim from Dr. Arruda. "Enwèye, enwèye, enwèye"". He replied to the tweet with two men crying with laughter.
I laughed! When @SebBovetSRC quotes verbatim from Dr. Arruda. "Enwèye, enwèye, enwèye" pic.twitter.com/I9FJUXhY4k

- Marie-Eve Tremblay (@METremblayRC) -