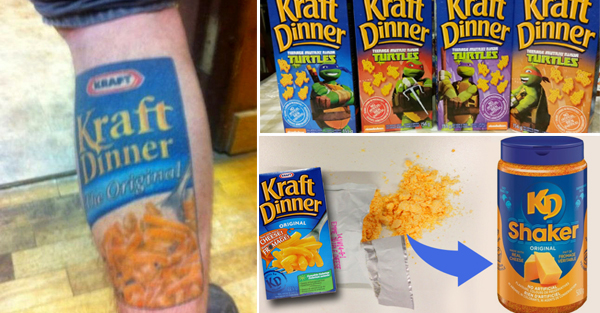 10 Ways to Show Your Unconditional Love at Kraft Dinner
Kraft Dinner is sure to be a nostalgic dish for many people. We ate it when we were young, and we were always happy when we had it on our plate. Are you a real fan of his famous cheese pasta? Here are 10 fun facts about the Kraft Dinner Macaroni.
Buy yourself the famous Kraft Dinner Cheese Orange Powder and put it everywhere. You can order here

Get a tattoo of a box of Kraft Dinner

You still have your collection of Kraft Dinner hockey cards that you had to cut out

Wearing Kraft Dinner clothes

You ate Kraft Dinner even when it was in this kind of box

Receive a Kraft Dinner cake for your birthday

Try the version Kraft Dinner Deluxe and see if there is a difference with the regular

Have your own Kraft Dinner recipe

Have you ever dressed up in a Kraft Dinner on Halloween or in a costume party?

You have already tasted the Kraft Dinner edition of Ninja Turtles