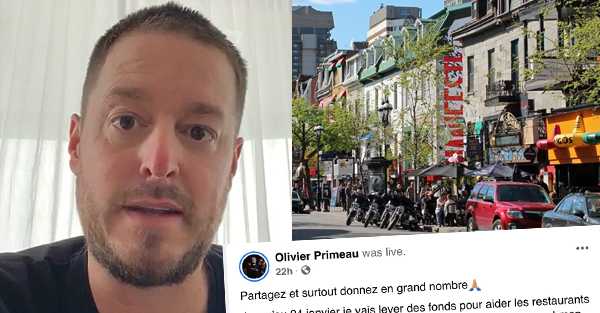 Olivier Primeau organizes a fundraiser for restaurateurs and pledges to give a lot of money
The businessman Olivier Primeau has decided to come to the aid of restaurateurs in Quebec. It was in a live on Facebook that he announced that he was organizing a fundraiser on the web. He created a GoFundMe and he wants to hear the stories of restaurateurs who have been operating for over 2 years. For each $ 25 raised, Olivier pledges to donate $ 000 for the fundraising that ends on January 1000th. Olivier Primeau is already in the world of catering in 24 establishments and he will soon be launching his chain of pizzerias, Slice Gang Pizza. As he mentions, he cannot help everyone, but he will do his best to help as many owners as possible with this initiative.
Here is the link if you want to participate, there is already over $ 7 gofundme.com/f/leve-de-fond-pour-les-restaurants-du-qc
A word from Olivier Primeau
We can read on his site Beach News Everyday "Hi friends… To help restaurants in Quebec, I am organizing a fundraiser. You must send your story to [Info@midwaygroup.ca]. I will choose the most touching stories and help them. I can't help everyone but I will do my best. That said, for each $ 25 raised, I commit myself "Olivier Primeau" to pay the sum of $ 000 for the same fundraising that will end on January 1000, 24.».