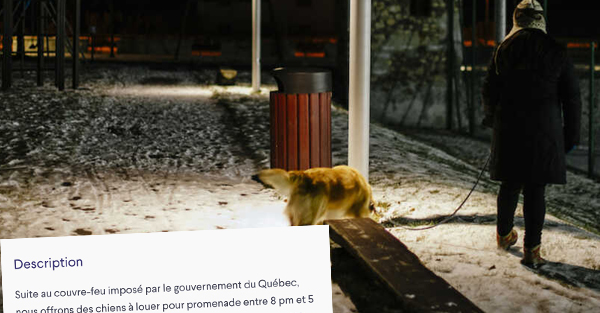 He rents his dogs so people can go out during curfew
François Legault yesterday and the Minister of Public Security Geneviève Guilbault today announced that walks with a dog are authorized after the curfew at 20 p.m. It didn't take long for some Internet users to put their dogs up for rent on the Kijiji platform. They are ready to part with their animals for a short time to allow people to go to the streets despite the curfew.
We can read in one of the announcements: "We offer dogs for hire for walks between 8 pm and 5 am from January 8 to February 8, 2021. The price is $ 50 per hour. Hurry to make an appointment, availability is quickly flying!". In another, it is mentioned: "Dogs to rent separately for your outings during the curfew. Supplied accessories».