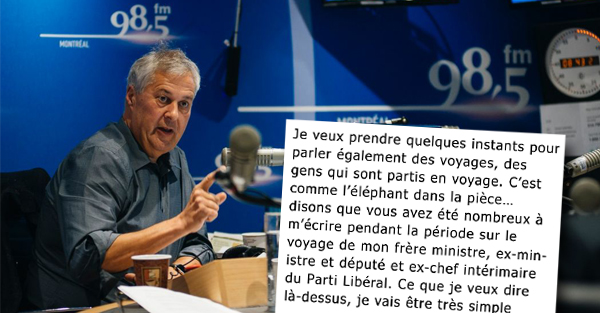 Paul Arcand gives his opinion for the first time on his brother's trip to the South
It was the return this morning of the excellent Paul Arcand on his show Since you have to get up on the waves of 98,5FM. Listeners awaited his return and wondered if the popular host was going to address his brother's trip to the South, Pierre Arcand. It was during his press review that Paul decided to broach the subject and give his opinion. He subsequently returned to this issue during the Bernard Drainville column. We can say that his message is clear, crisp and precise!
Here is what Paul Arcand said:
I want to take a few moments to talk about travel as well, people who have gone on a trip. It's like the elephant in the room… let's say that many of you wrote to me during the period about the trip of my brother minister, ex-minister and deputy and ex-interim leader of the Liberal Party. What I want to say on this, I'm going to be very simple, it's his decision to travel, it's not mine and I have nothing to do with it. And I do not have to justify, to defend his position which for me is a serious error for a deputy. You cannot ask Quebeckers who are in the health care network to deprive themselves of vacations, simply Quebecers to deprive themselves of gathering and traveling. I understand that travel is allowed, it's not a question of legality, it's a question of positioning for an elected official and for any public figure as well as me. If you had learned that I had gotten the hell out for a week in the South while the health network cracks, while I do press reviews, while I explain situations like this one as I have just seen. do it, you would have fire and then you would be right to be cursed against me. I did not do it. What I find deplorable on the other hand is first of all the tone that some people use, rest assured that you are going straight to the trash. Second, what I do I will take responsibility for, what others do I don't have to take responsibility for. I don't know how it is in your family, but in mine it is like that! We take responsibility for what we have to do on both sides. Is it a good idea to go on a trip? The answer is no and all the elected officials, one more this morning that I see, are paying the political price for that. There I do not know what will happen with the deputy Mr. Chassin of the CAQ who went to see her husband, it seems that it is less serious. But what I want to tell you is that we cannot when we are in the public square and even less when we are an elected official, even if it is legal even if it is not defended by public health , it's not a good idea…
So the point is made on this, I do not intend to come back to it. I'm just asking a case, if you're not able to be polite, don't because you're going to hear the trash echo when you run into it.
You can hear the segment at 10 minutes 30 seconds