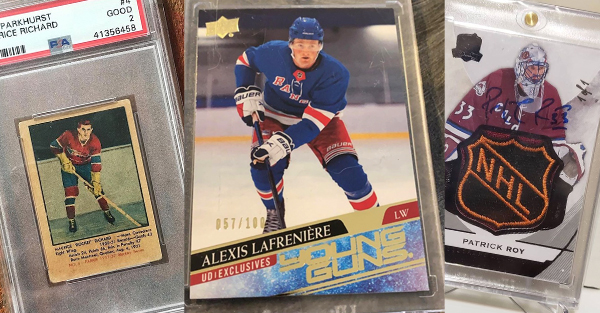 10 Instagram accounts to follow if you love hockey cards
Collecting cards for hockey or another sport has returned to fashion during the year 2020 and continues in 2021. Nostalgia, a sense of gambling and a passion for hockey are the 3 criteria to explain why people are fallen into the hobby. We can even make a lot of money by collecting cards, some can increase in value in 4 digits or even 5 digits. One of the best tricks is to collect rookie players from the past, present, and future. If you think a player is going to get huge in the NHL, all you need to do is collect their Young Guns, Future Watch or if you have a good budget The Cup Rookie / 99 rookie cards. Then you can send them to Beckett or PSA to have them graded and hope to have a score closest to 10 (or have a 10 out of 10 which is rare, but here you have the perfect card).
I will give an example of a card that has skyrocketed. The PSA 5 rookie O-Pee-Chee Gretzky with the blue line near the skate on the back (first print of the card) in the summer of 2020 was selling for $ 1500-1600. In early January 2021, the same card with the same rank is now selling for between $ 4000 and $ 4400. We can say that it is a good investment, and nothing suggests that its value will decrease in the coming months.
Hockey cards on Instagram
A good way to see beautiful cards is to take a trip to Instagram. There are several accounts that present us with remarkable private collections. The community of hockey card collectors is very active on Instagram, and internet users are ecstatic when a rare card is published. That's why today I'm presenting 10 Instagram accounts to follow to enhance your news feed with beautiful PCs (private collection).
Instagram account: @Burezerman
He collects vintage OPC cards from the 80s (Mario Lemieux, Mike Bossy, Steve Yzerman…) and he completes the set of 59 Panini Dominion Stickside 2013-2014 cards (I believe it is 51 out of 59). He has the famous Maurice Richard rookie PSA 2, a very nice very rare card. An account to discover where the person applies to take beautiful photos.
See this post on Instagram
Instagram account: @WrapAroundCards
You want to see big patches, bits of hockey sticks in cards, juicy signatures or even the NHL logo of a player's jersey in a card, this account will blow your mind . His favorite players are Chris Chelios, Paul Coffey, Jaromir Jagr… an account that dazzles!
See this post on Instagram


Instagram account: @dimepiececardcollector
One of the most beautiful collections I have seen from Patrick Roy. Here we are talking about big cards, cards that have enormous value and are very rare. He has card sets that only contain 4 cards, it is extremely difficult to pull this off. The cards are often The Cup, the most prestigious brand (a box can sell for between $ 600- $ 800). Whether you like Patrick Roy or not, this account is definitely one to follow.
See this post on Instagram
Instagram account: @ 90shockeycardcollection
You come from the generation of cards of the 90s, so you know well the Pro Set, the Upper Deck, the Score, the Pinnacle… This account is definitely for you. You're going to review cards that you had in your big satchels. These are not cards that have a big value today (they printed too much), but it is really great happiness to see them again.
See this post on Instagram
Instagram account: @jayscardss
One of the biggest collectors of hockey cards in the world. This Canadian who comes to Alberta has a room in his house just for hockey cards. He has a mountain of prestigious cards, his collection must be worth a fortune. Jay Jokisch loves the Calgary Flames, your eyes will feast when you see his cards.
See this post on Instagram
Instagram account: @cloutsnchara
Canada's most popular Ontario store CloutsnChara Sports Cards is on Instagram to show us the new boxes on the market as well as the hits they've had opening boxes during breaks. Every night you can buy a spot (a hockey team) and they open boxes live, each card of a player on your team is yours. It's super entertaining and the best way to get a big card without paying too much. That being said, you have to be lucky.
See this post on Instagram
Instagram account: @acetate_girl
She's been collecting Carey Price cards for a long time. We can say without a doubt that she has very nice player cards in the advanced midrange. She also collects great Young Guns cards, it's one of my favorite series for rookie players.
See this post on Instagram
Instagram account: @albert_flippinghockeycards
This account is really interesting to follow because Albert shows us the price he paid for a card, the price when he upgraded it and how much he sold it. This is a good way to see the profit that can be made by reselling a card quickly. He specializes in Young Guns, again I love this series.
See this post on Instagram


Instagram account: @upperdecksports
The official Upper Deck account is definitely a must to follow on Instagram. You will be able to be aware of new boxes coming out, exhibitions and news about this great company. They are the ones who produce the hockey cards, and you can see that they are enthusiasts and collectors alike. This is the first account I subscribed to when I started in the hobby.
See this post on Instagram
Instagram account: @habscave
He doesn't just collect cards, in fact he's a fan of the Montreal Canadiens. Its basement is in fact a real CH museum where we find a montage of items from the Montreal team. Of course there are cards from the best players in Flannel, we often find rookie Patrick Roy, Ken Dryden, Guy Lafleur and so on. An account to follow to be amazed!
See this post on Instagram