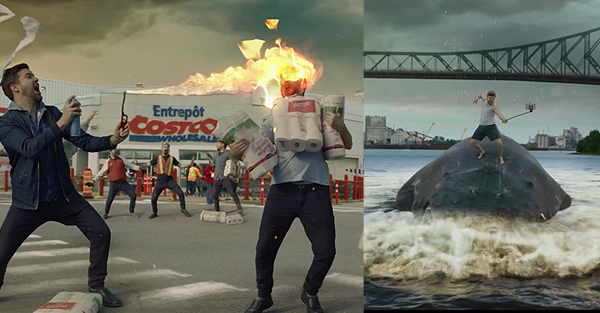 A Quebec retrospective of the year 2020 completely ill
The talented Pierre-Luc Gosselin, in collaboration with Patrick Gosselin, delivered a solid retrospective 2020 in blockbuster sauce. On Metallica, you will be able to see lots of nods to the events of the year like the openings of the Watchmen and Zombieland films. We can say that Pierre-Luc made a whole video with the means at hand, but his talent is so strong that it looks like a huge production. Well done!
Here is his message that accompanies his video: "Hi Facebook, Team-up with the talented visual artist Patrick Gosselin, (the one behind the famous opening of Bye Bye 2011 with the orange Julep on Décarie) I have decided to concoct a retrospective of the year in blockbuster style.
At the end of October I was in talks to re-work on the Bye Bye but for all kinds of reasons the project unfortunately had to be aborted. With the agreement of Simon-Oliver, Patrick and I decided to adapt the concept so that it could occur without a budget. At the beginning I had organized a big outdoor shoot with family and friends to recreate crowd scenes but for fear that the police would declare us an illegal gathering, I finally decided to take on all of the fifty characters. (Thanks to the FACEAPP application, the DIY version of the makeup artists of Bye Bye! Haha)
Strongly inspired by the openings of the Watchmen and Zombieland films, it is with pride that I present to you the fruit of our hard work. To see more than once because it is dense! LIKE, COMMENT, SHARE. Happy New Year everyone!»