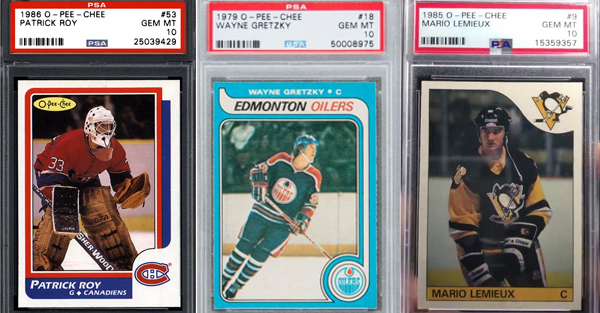 The best hockey cards to make money fast
The world of sports cards has exploded since the start of 2020. Several people have decided to dive back into this passion to collect hockey cards. Quebec is part of this wave, we feel a real interest in building a collection of cards that will increase in value. Some people like to invest in cards better than in other areas. It is true that the price of hockey cards is skyrocketing, but again, you have to know which card is worth the money.
Young Guns, Future Watch and The Cup
First, it is important to aim for a player's rookie card. Even if his second or third year in the National League card looks better, that's not a variable for the price of this one. By choosing a card from the first year of a player, we do not go wrong. There are several kinds of cards now so several different cards of a rookie player. For new players, you should aim: Upper Deck Young Guns from the UD Serie 1 or UD Serie 2 box, Future Watch / 999 from the SP Authentic box or the rookie card / 99 (they printed the card only 99 times) by The Cup.
Regarding the UD Serie 1 Yound Guns, there are 3 options. First the regular card where we do not know the number of printing thereof. There is the numbered / 100 Young Guns UD Exclusives so there are only 100 cards printed like this. Finally the Young Guns High Gloss / 10 is the rarest. If you've got a Sidney Crosby rookie Young Guns High Gloss, you can tell yourself you've got a lot of money in your hands.
Alexis Lafrenière Young Guns High Gloss / 10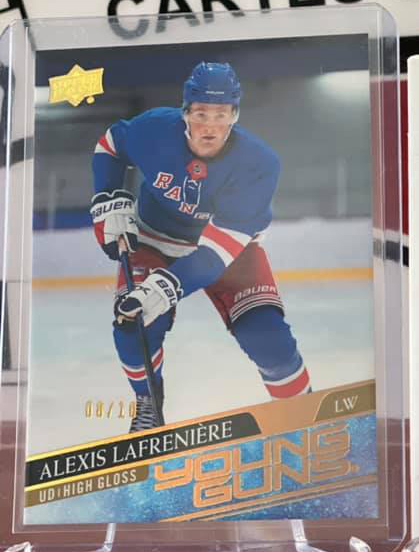 For Future Watch, there are 2 versions. First the Future Watch is printed / 999 times per card and it contains the player's signature. If the player wrote the date on the card, it means that it is in the first 50 signed. So signature + date is worth a lot more because there are only 50 copies even if it is on / 999.
Elis Pettersson Future Watch / 999 but with the date therefore one of the first 50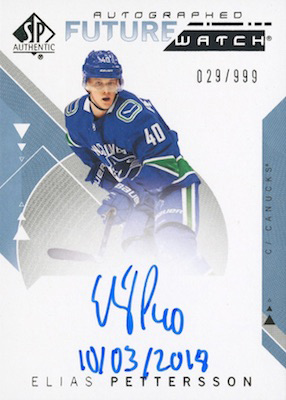 A player's rookie card made by The Cup is always / 99. The Cup cards are worth a lot because the price of a box is very expensive. If you buy a box, it's at least $ 700 and chances are there isn't a hit in it. You can watch people on Youtube opening The Cup boxes, it's stressful and fun.
The most valuable cards
Here are the points to know which are the cards that increase in value quickly. First, as I mentioned, the player must be a rookie. Does the player belong to a big hockey market? Montreal is a huge market while there are far fewer collectors in Phoenix. For cards from the 70s and 80s, is this a version of the Topps or O-Pee-Chee card. The card is always worth more when it's O-Pee-Chee because it is produced by this Canadian company which printed much less. Has the card been graded by PSA or Beckett. The better its rating, the more value the card will gain. For example a Crosby Young Guns rated 10 by Beckett is worth a ton of money.
The list of cards worth buying and going to rise in value
There are a lot of cards that are going to increase in value. It's impossible to pull out all the cards that are worth investing in. For sure, a One of One (1 of 1) card is really worth it. The card is unique and it was printed in a single copy. Here is a list of cards that have seen a price explosion recently and are not about to stop.
1951-1952 Maurice Richard Parkhurst
1951-1952 Gordie Howe Parkhurst
1953-1954 Jean Beliveau Parkhurst
1966-1967 Bobby Orr Topps
1971-1972 Guy Lafleur O-Pee-Chee
1971-1972 Ken Dryden O-Pee-Chee
1979-1980 Wayne Gretzky Recruit O-Pee-Chee
1985-1986 Mario Lemieux O-Pee-Chee
1986-1987 Patrick Roy O-Pee-Chee
2005-2006 Sidney Crosby Upper Deck Young Guns
2005-2006 Sidney Crosby SP Genuine Future Watch
2005-2006 Sidney Crosby SP The Cup / 99
2005-2006 Alexander Ovechkin Upper Deck Young Guns
2005-2006 Alexander Ovechkin SP Authentic Future Watch
2005-2006 Alexander Ovechkin The Cup / 99
2013-14 Nathan Mackinnon Upper Deck Young Guns
2013-14 Nathan Mackinnon SP Authentic Future Watch
2013-14 Nathan Mackinnon The Cup / 99
You can do some research on Ebay to find out the value of a card. The better the player, the more the card will be sought after by collectors. You can click on the Sold Items filter to find out the price of the last cards sold on the site.