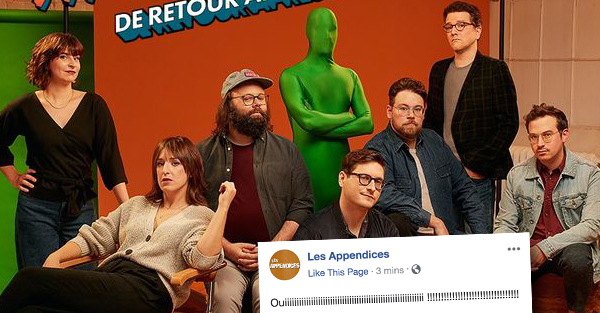 The Appendices have just announced their return in November
All V just made a big announcement today. The popular humor group Appendices are back on November 12th. For the moment we have no more details, we only know the title Les Appendices - Back after the break. The reactions under the publication are filled with joy, Internet users are wondering if it is a special or a new season.
We can read in the publication of Tou.tv: "The Appendices: back after the break | From November 12 on ICI Tou.tv EXTRA"While Les Appendices commented:"Yesiiiiiiiiiiiiiiiiiiiiiiiiiiiiiiiiiiiiiiiiiiiiiiiiiiiiiiiii !!!!!!!!!!!!!!!!!!!!!!!!!!!!!!!!!". It's going to be good!