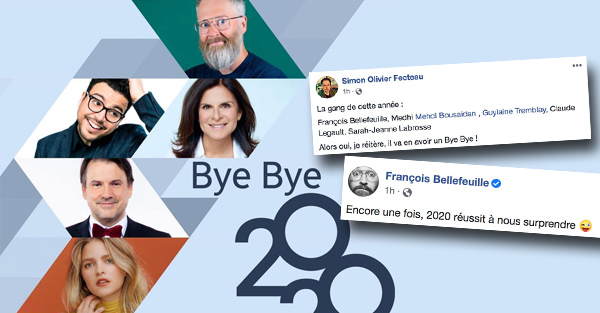 We now know all the members of the Bye Bye 2020 team
Simon Olivier Fecteau announced recently, yes there is going to be a Bye Bye this year. This morning, he has just revealed the whole team that will participate in the show. We can find Mehdi Bousaidan, Claude Legault and Guylaine Tremblay who were there last year. Two new faces join the team, we can see Sarah-Jeanne Labrosse and François Bellefeuille.
The Director General of Radio-Canada Television, Dany Meloul, said in a press release: " I am extremely grateful to Guillaume Lespérance and Simon Olivier Fecteau for having agreed to offer us this long-awaited pleasure, despite the circumstances which make this mandate more difficult than ever. This year again, they will be able to rely on a group of performers of the highest level. ».
So it's an appointment on December 31 to listen to the Bye Bye 2020