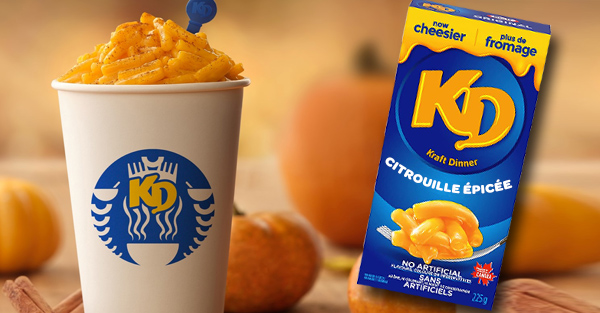 Kraft Dinner Launches New Very Limited Edition Flavor
If you are a fan of KraftDinner, it's time for you to taste a new flavor. KD will soon be making a spicy pumpkin flavor. However, you will not be able to find this product in grocery stores. There will only be 1000 boxes to try and it is through a competition that you can get your hands on this precious product. If we trust their Instagram post, you have to go to KDcitrouille.com and register to be one of the 1000 lucky ones.
On the competition site, we can read: "Have you ever wondered what a Spicy Pumpkin KD would taste like? Probably never. But we did the same. Imagine your mac and cheese with hints of cinnamon, a bit of allspice, ginger, nutmeg and cloves, all mixed with KD cheese. So if you want to be one of the lucky 1000 to try it out, completely for free, sign up here and we'll let you know when it arrives this fall.».
The Spicy Pumpkin Kraft Dinner might be in your hands in October. We wish you good luck! (via The bag of chips)