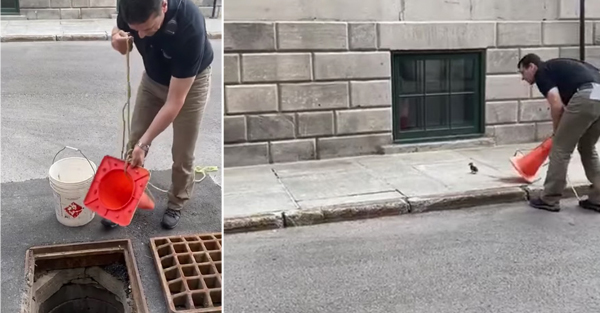 A touching rescue of a baby duck took place in Old Montreal
We can say that these 2 Montrealers were quite resourceful in saving this duckling trapped in a sewer near the Pointe-à-Callière Museum in Old Montreal. A man decided to take an orange cone tied with a rope to save the baby duck. The rescue went very well, and the duckling was able to find his mother who was waiting for him. The reunion is touching, we can hear several people who attended the scene making big awwwwwwww!
Posting the video, a certain Marion wrote: "Working at Pointe-à-Callière, city of archeology and history of Montrealalso means working with resourceful and caring humans who find the time to save a baby duck and return it to its mother the day the Museum reopens! Bravo to Luc and Alexandre for the rescue!».
We invite you to subscribe to our Instagram: @petitpetitgamin