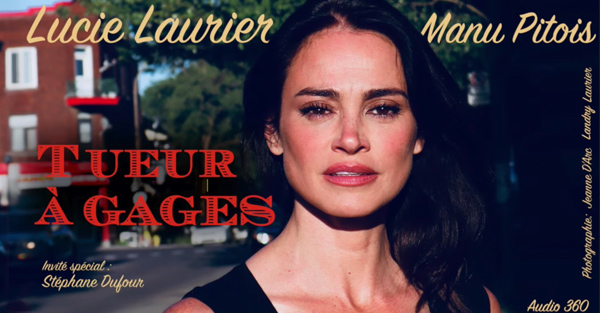 You can now hear the song Hitman by Lucie Laurier
Lucie Laurier had recently published on the web the lyrics of his song Hitman. It was only a matter of time before we could hear the play. This morning, Lucie posted her song Tueur à gages with Stéphane Dufour on guitar as a guest. A big 8 minutes and 2 seconds of tense, vaporous and intense music.
While posting the song, Lucie wrote on her website:
I finally launch my first original song. Singing has always been my big, big dream. Singing, writing, directing ... I wrote this song more than 10 years ago, when I was living in Paris. It opens the 3rd act of a work that I imagined as an opera.
This project, nobody wanted to produce it and apart from my mother and my son who understand my approach, all told me that it was not feasible.
So I produce it myself, the songs will come out in a trickle and it is today that I launch the first.
Difficult to find a composer who understands my universe and my references. Life made me meet Manu Pitois.
Thank you very much Manu for your talent which overwhelms me and enriches my creativity.
I love "Hitman". She's the way I wanted her, melancholy, disillusioned and grandiose.
I wanted us to evoke Ennio Morricone who has so well translated into music the duel that takes place in this cruel world.
The recent controversy surrounding my comments to chis crazy crisis that we have been going through for several months, will have given me the necessary impetus to finally complete my project and release my songs.
Manu had already composed the music for TAG 2 years ago.
Stéphane Dufour, whose work I have loved for over 25 years, doesn't know it, but when I imagined this song I already wished his talent was part of it. I must have pinched myself when he agreed in early May to work with us. He recorded his tracks a few days later. As for me, I recorded my vocals at home at the end of last month and the final mix by Christian Saint-Germain was released last week. Here!
The song will not be found on Spotify, Apple Music or other digital platforms. I have lived in misery for too many years to go and deliver our work like a drop of water in the ocean to these musical wholesalers who have killed any possibility of making a living from our art.
Don't have any money? I'm glad you can download it for free.
If you like it, share it.
You want to encourage me so that I can produce the sequel, give what you want.
You have my sincere appreciation.
You can also contribute by interac transfer to lucie@lucielaurier.com
Thank you and enjoy listening!
Lucie Laurier