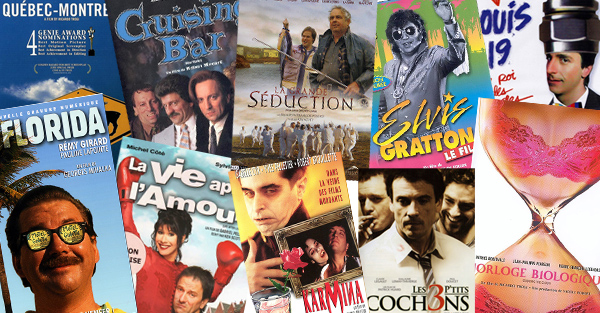 15 remarkable Quebec comedies to watch for St-Jean
Saint-Jean is approaching, and it's time to dive back into Quebec culture! I decided to suggest 15 Quebec comedies to watch during the month of June. I drew on the 80s, 90s and early 2000 to bring you Quebec films that make you smile. Of course, I did not put all the comedies produced during this period. I put the films that I enjoyed watching and that I keep fond memories of. It's time to dust off your VHS or DVD player, and go find a copy of one of those movies. Unfortunately, you won't find them on Netflix or any other such platform, often the movies are a bit too old.
Elvis Gratton (1985)
Elvis Gratton wins the Elvis Presley impersonation contest and wins a trip to Santa Banana. Accompanied by his wife Linda, they spend a week in the tropics. A week full of twists and turns and unforeseen incidents. Back in Quebec, Elvis is determined to straighten out the moral values ​​of our society. Will our national hero of the bead succeed in reforming society in his own way? Because in every Quebecer there is a sleeping Elvis Gratton ...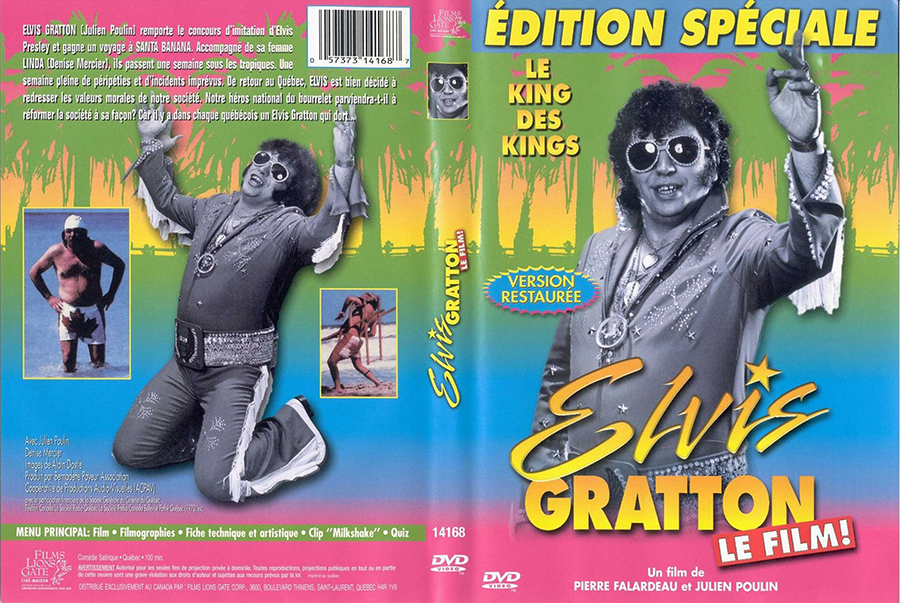 Cruising Bar (1989)
Saturday 12 noon: The countdown has started for four males in the hunt for women… Massage studio, last minute shopping, bodybuilding, our men each throw themselves ardently into the ritual of appearance… Impossible to resist the character fiercely burlesque and remarkably typical behavior of these characters. We will then meet Gérard dit le taureau, Patrice dit le lion, Jean-Jacques dit le Paon and Serge dit le ver de terre.
Saturday 21 pm: The evening is young and the future belongs to them… the guys from Cruising Bar are setting off! Be careful on rue St-Denis, rue St-Laurent, rue Crescent or boulevard St-Martin… hunters who know how to hunt are approaching.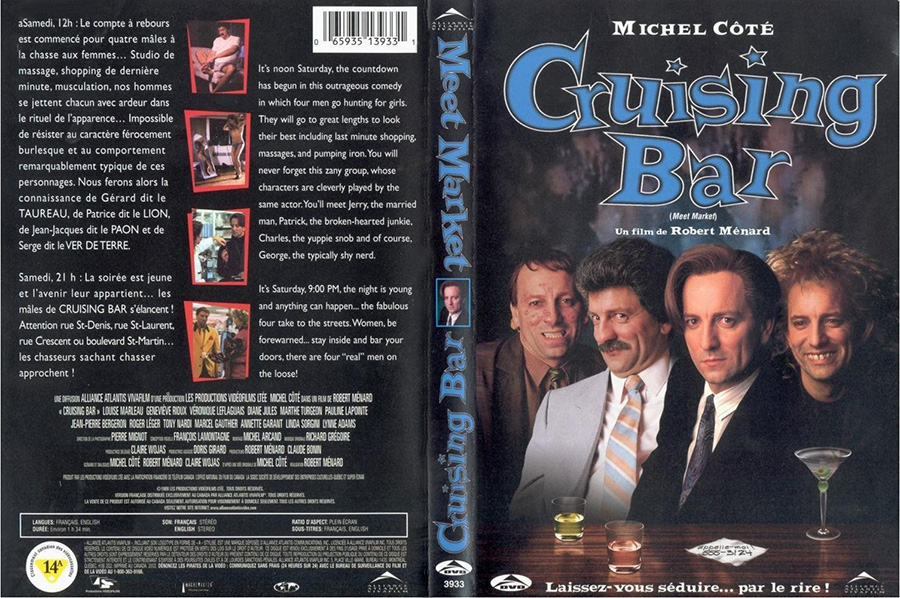 La Florida (1993)
The dream of all Quebecers: to end his days in Florida! This is what Léo Lespérance and his family decided to achieve in this comedy to twist your guts! On a cold winter day, the Lespérance family moved to Florida to own the Ginette Motel. Blinded by the vision of success, Léo devotes himself body and soul to the smooth running of his business, to the detriment of every other aspect of his life, including his family. It was then that everything seemed to turn against him: wife, children and even the neighbors!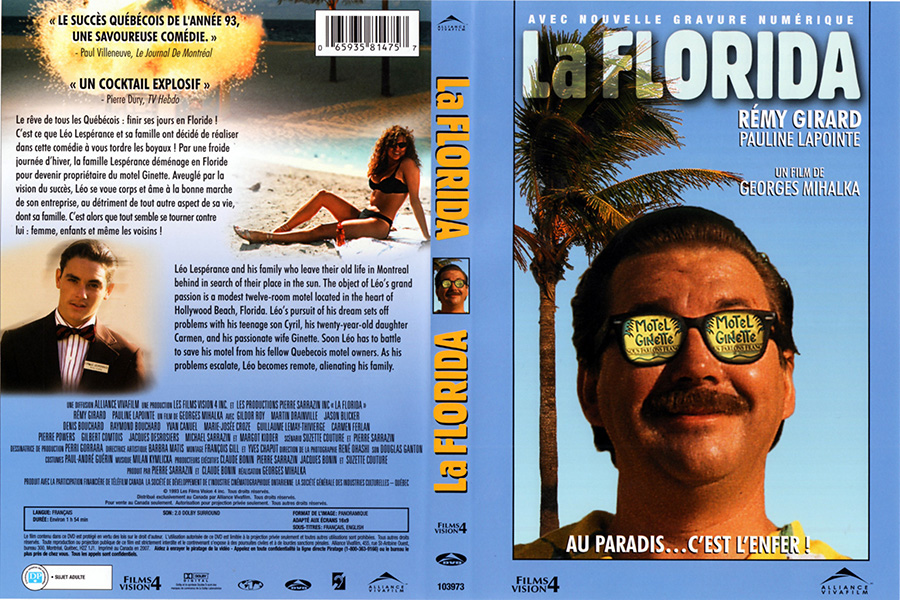 Louis 19 (1994)
Big winner of the "Big Star" contest Louis Jobin, a rather ordinary young bachelor but a big fan of TV and zapping, finds himself overnight propelled to the rank of star. Day and night a camera follows him everywhere and the images are broadcast live on channel 19! Unfortunately Louis will experience disillusionment and also revolt.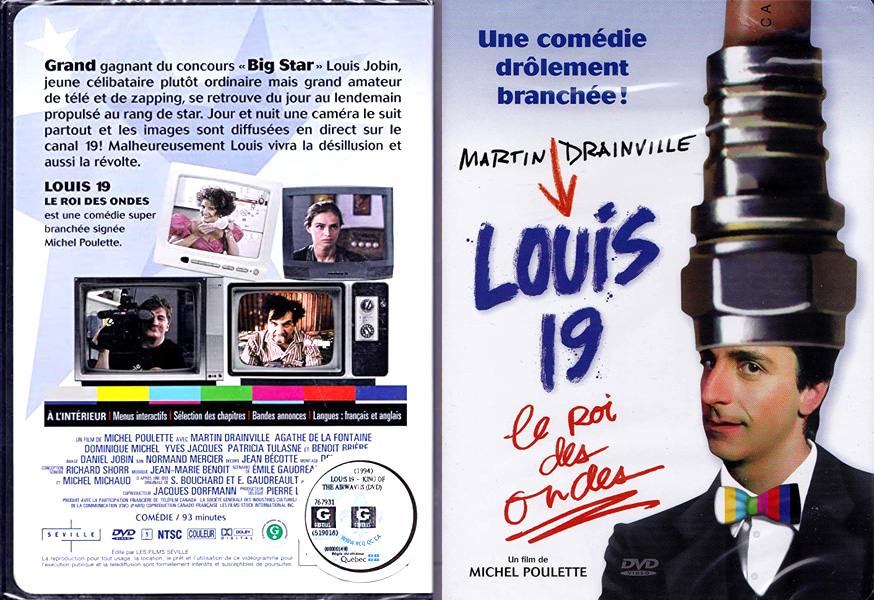 Karmina (1996)
Karmina, a 140-year-old vampire, flees her native Transylvania on her wedding day to Vlad, much to the despair of the baroness and the baron, her parents. She takes refuge in Quebec with her aunt Esméralda, an eccentric woman who makes her drink a potion allowing her to become human. Karmina will discover love with Philippe, but Vald, the abject fiancé, soon arrives in Quebec. With the help of the customs officer Chabot and his in-laws, Vlad tries to find Karmina.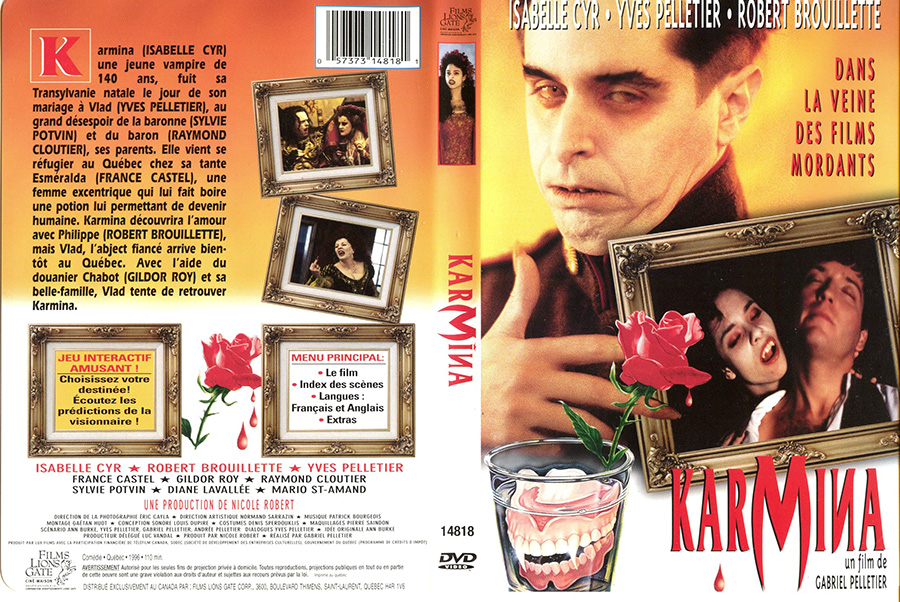 The boys (1997)
Every Monday evening at the arena, eleven men as different as possible meet to put on the jersey with love for the Boys, the hockey team of a garage league of which they are part. As Stan, their revered trainer, would say affectionately, they have the puck tattooed on their hearts. It does not matter whether they are lawyers, police officers, mechanics or unemployed, as soon as they enter the locker room they all forget their age, their work and their problems. And on the ice rink, only one fantasy drives them to be fifteen again and the potential to become Guy Lafleur. After an often questionable performance, they will drown their disappointment at the Chez Stan brewery, where the owner of the establishment cheers them up. This is where they laugh, argue, kiss and even admit their weaknesses.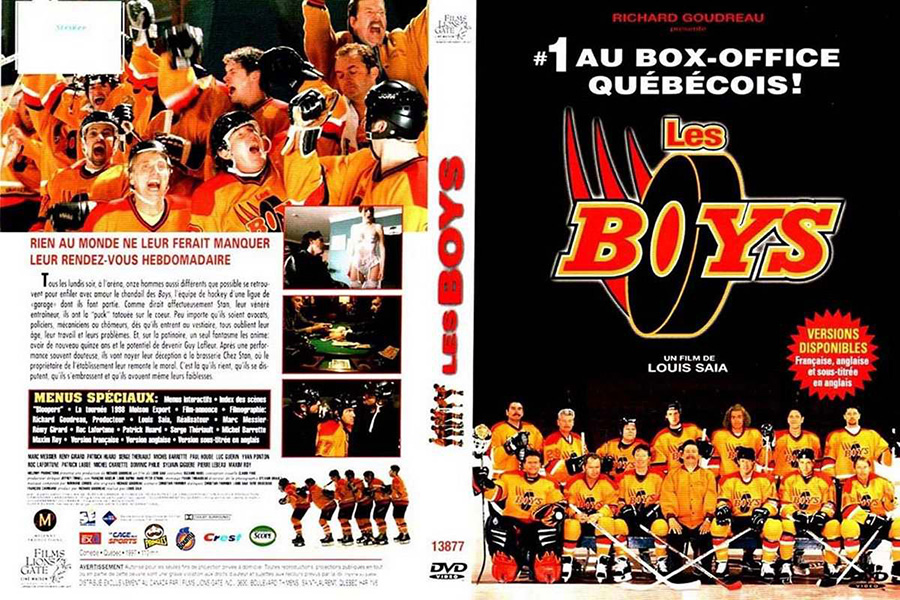 Life After Love (2000)
After 20 years of marriage, Gille Gervais must face a harsh reality: his wife, Sophie Lavergne, leaves him for another man. Using all the means imaginable, Gilles multiplies his efforts to give back meaning to his life. Unfortunately for him, all of his attempts, from trying new questionable therapies to drug abuse and dating other women, will not stop him from completely derailing and slowly but surely descending into delirium. This comedy reaches unprecedented heights the day Gilles learns that Sophie is going to remarry… Life after love is a film about great love… Will Gilles be able to find the love of his Sophie?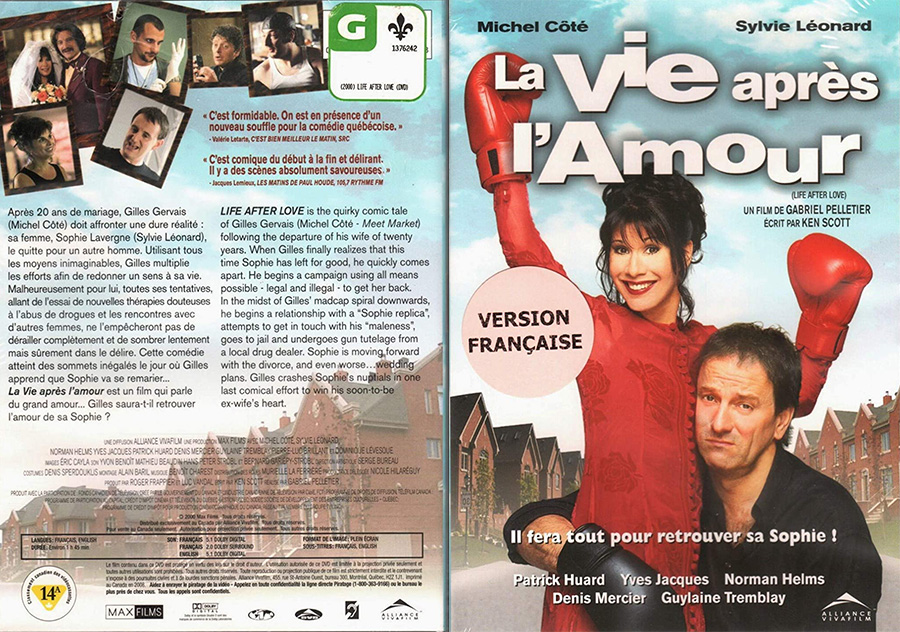 Wedding night (2001)
For a year now, Florence and Nicolas have lived together in perfect harmony. At least, until the day when Claire, Nicolas's annoying sister, unwittingly registers them in a marriage competition. The prize is an all expenses paid wedding in Niagara Falls with family and friends. Immediately there, the idyll turns sour and the couple decides to cancel everything. Torn by their sincere love for each other, but terrified of the prospect of one day being like family members, Florence and Nicolas will find the only common ground worthwhile, that of the heart. After a frantic pursuit, will they finally get married?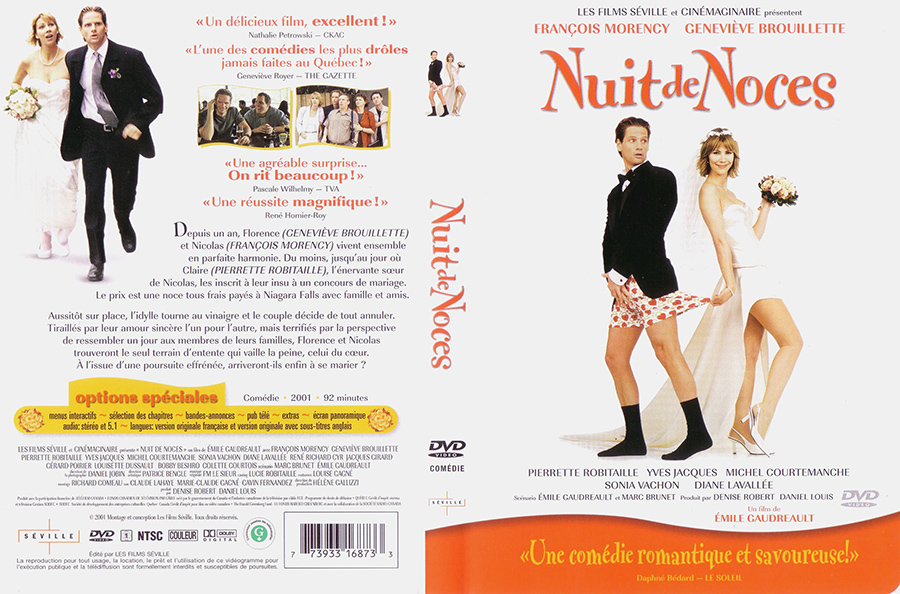 Quebec-Montreal (2002)
Quebec-Montreal follows, on 250 kilometers of asphalt, nine characters on the threshold of the thirty. For them, it is an opportunity to take stock of their life, to settle certain questions that disturb their existence. Highway 20 allows us to discover THE IDEAL in love with three friends heading south, the QUEST of two office colleagues with ambiguous relationships, the apparently perfect PASSION of two lovers and the EVERYDAY OF a young couple already old. During the two hours necessary for the journey, crossovers, strong situations and squeaky reflections will disrupt the present and influence the decisions that create the future.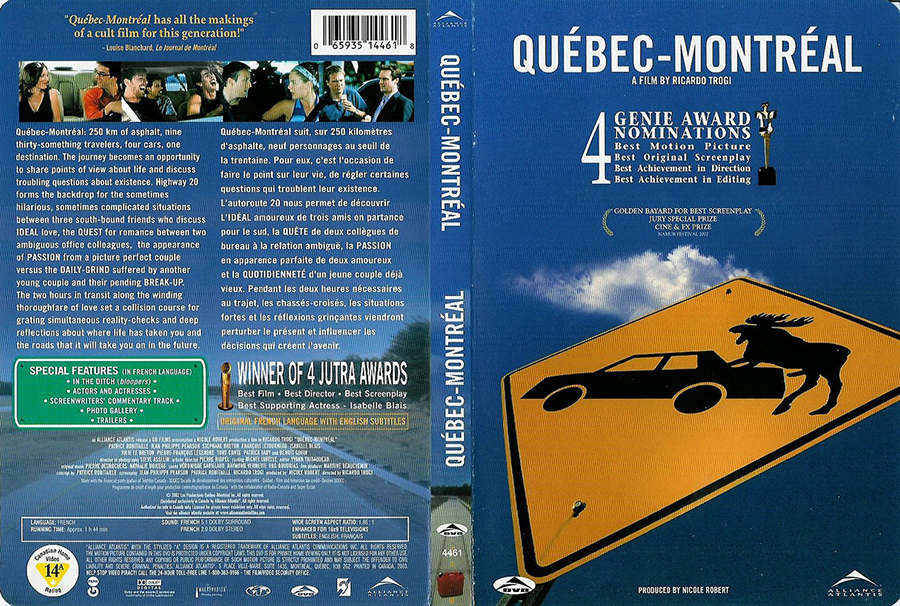 The Great Seduction (2003)
In Sainte-Marie-La-Mauderne, a small harbor village, the inhabitants once proud fishermen, are now forced to live off government allowances. Over the checks for social benefits, the pride of the villagers crumbles giving way to gloom, torpor and despair. After the mayor's departure for the big city, Germain, a simple villager, decides to take matters into his own hands. In order to meet the demands of a company that could set up a small factory, Germain must attract a doctor to their tiny hometown. A glimmer of hope is born the day a young doctor is obliged to stay a month in Sainte-Marie-La-Mauderne. Knowing that this is their only hope, the villagers set out to transform their small town into a dream village for this young doctor.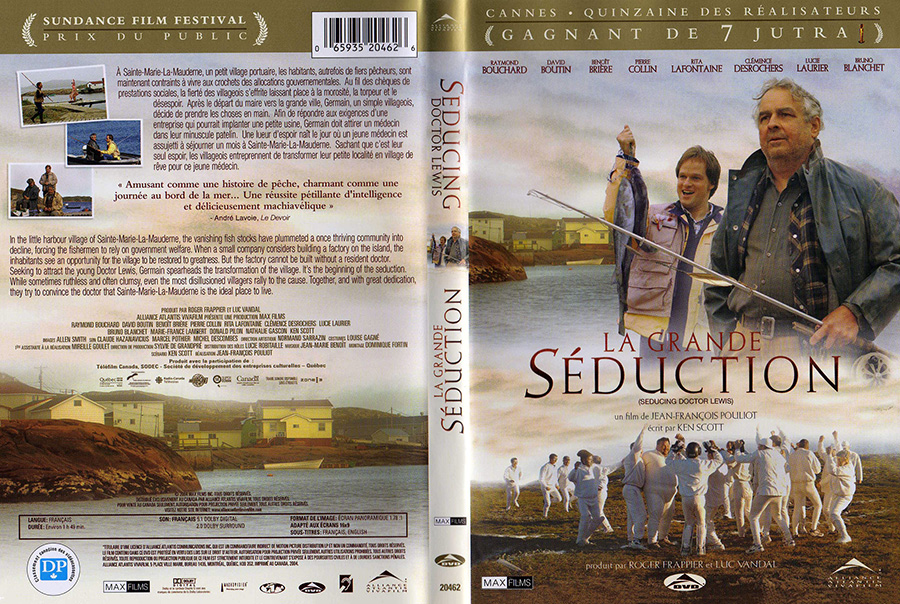 Magnets (2004)
Les Magnants takes us into a romantic crossover, a romantic marivaudage. Julie, a naive and idealistic young bachelor, is forced to replace Jeanne, her unfaithful sister, in the apartment she shares with Noël, her fiancé. Due to an incompatible work schedule, Jeanne and Noël no longer see each other and communicate by messages under the fridge magnets. Unbeknownst to them, Julie changes the content to rekindle the couple's failing love. But will be taken who believed to take, because in the game of love and truth, the illusion is deceptive and love always triumphs.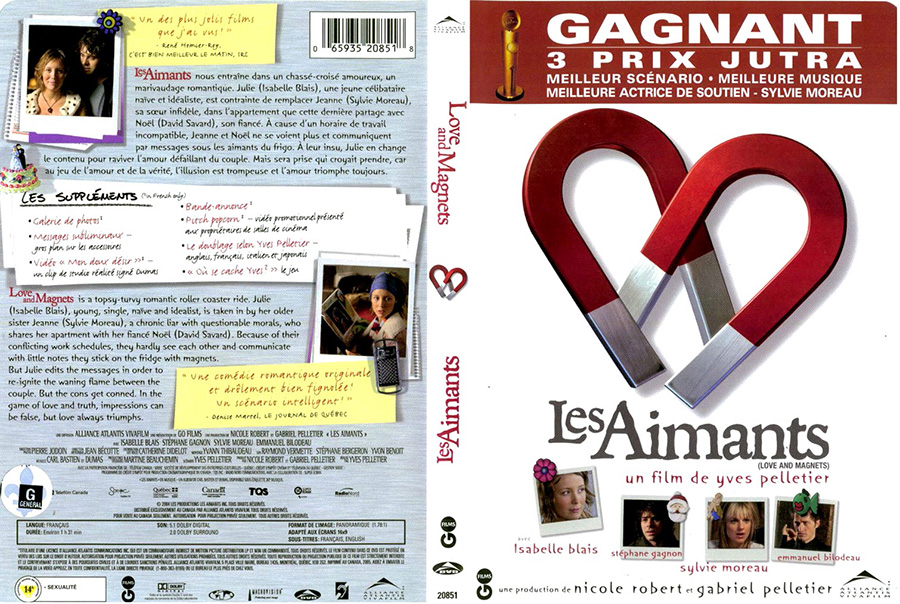 Biological Clock (2005)
Three men in their early thirties are at the time of choice: to have or not to have babies! Sébastien has one… Paul expects one… Fred doesn't and doesn't want one! How to react when friendships change, when the circle closes on this small cell that is our new family, when we feel that it is the end of our youth. Horloge Biologique, a dramatic comedy about fatherhood and male instinct.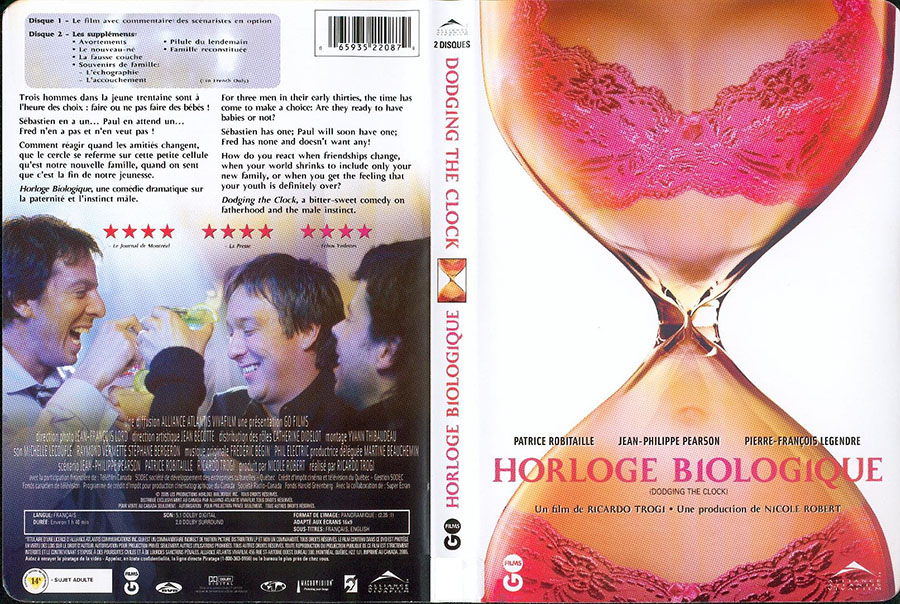 Good cop, bad cop (2006)
David Bouchard and Martin Ward could not be more different: one speaks French and is from Montreal, the other is an English speaker from Toronto. One obeys the law, the other does his own. When they are forced to work together on an investigation whose geographic jurisdiction is as nebulous as the motives of the perpetrator, their differences will both jeopardize the investigation and help them unravel the mystery.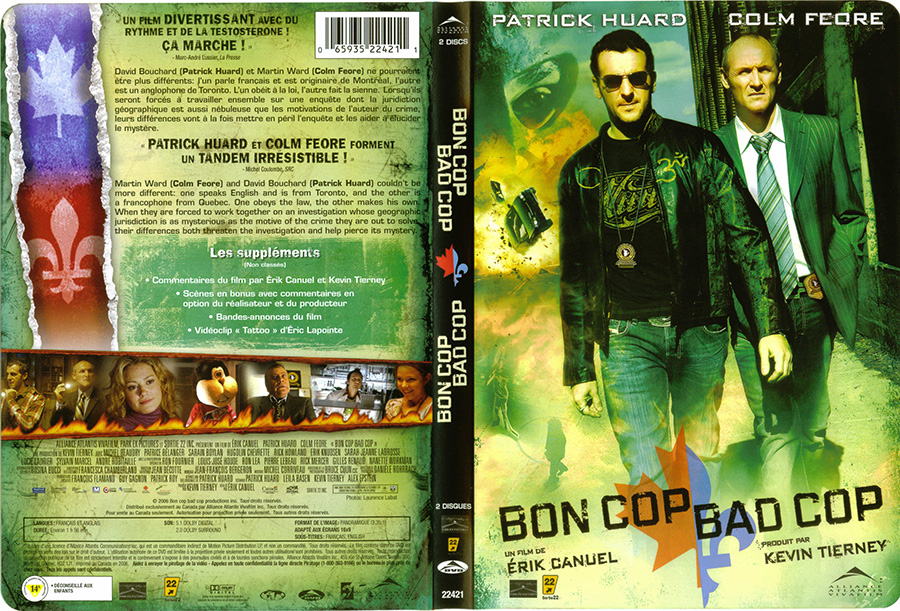 The 3 little pigs (2007)
In the hospital, three brothers meet at the bedside of their mother in a coma. To pass the time, they discuss the merits and pleasures of fidelity and marital infidelity. As the days go by, the conversations of the younger two advance in juicier details and fantasies, which will cause them to act against the older morals and stronger values.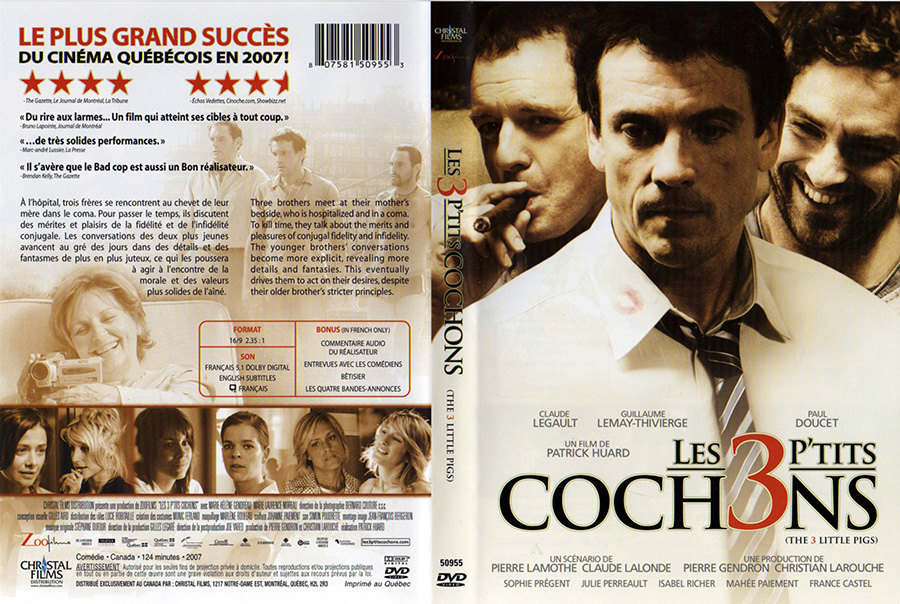 From Father to Cop (2009)
Jacques and his son Marc are two police officers who cannot stand each other but who must work together. Their mission: to save the life of one of their colleagues kidnapped by the bikers. The success of their mission goes through Charles Bérubé, the biker lawyer who is in a crisis of conscience and seems ripe to collaborate with the police. But the lawyer is unapproachable, Jacques and Marc change identities, become real estate agents to try to get closer to him during father / son therapy in the forest. Will they succeed in putting Bérubé in confidence and convincing him to say everything he knows? From Father to Cop is a classic detective comedy while being an incredible comedy about father / son relationships.