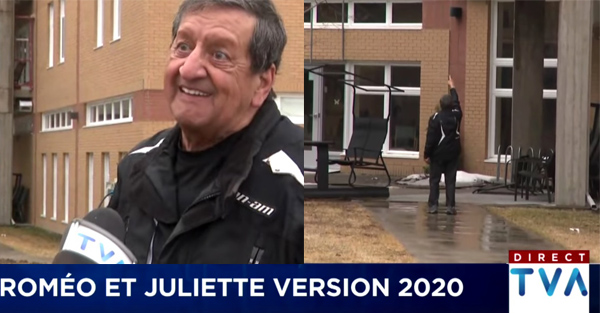 This LCN report on a couple from Jonquière is published everywhere on the web
This report from VAT Saguenay-Lac-St-Jean is very successful on the web. This is the story of a certain Ghislain who has not seen his lover for 5 weeks. As she is in a CHSLD on the first floor, he must have found an ingenious trick to see her through a window. He went to rent a lifting platform (he finally got it for free) to climb to the same level as his wife. He was able to see her for a week to his greatest happiness.
We can read on LCN's Facebook page: "Here is a beautiful love story in this time of pandemic. Ghislain Racine was afraid that his wife, who suffers from Alzheimer's, will forget him. He rented a forklift to go see her through the window of his room on the first floor of a CHSLD. This man will definitely touch you.They are now nicknamed the Romeo and Juliet of Quebec!
We invite you to subscribe to our Instagram: @petitpetitgamin