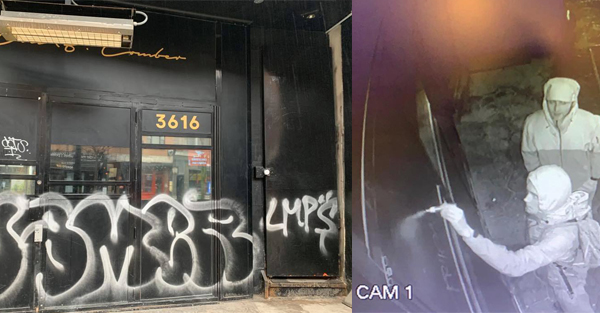 The Don B Comber bar in Montreal has been vandalized
The popular Don B Comber bar on Saint-Laurent Street in Montreal was vandalized overnight from Friday to Saturday. They made a Facebook post showing 2 people smearing the front of the bar. So far, the management of Don B has not made a complaint to the police. They give the offenders a chance to correct the situation. They made this post in order to find the 2 "local artists".
We can read on Facebook:
"As part of the 'encourage local' movement, we would like to recognize the work of these masters of the aerosol canister.
With our fight in these days to assert the voice of our profession, we can at least take comfort in counting on the support of these most talented local artists !!
Don B Comber finds it important to encourage them in their artistic endeavors and that is why we invite them to come and finish their drawings. Share in large numbers! ".