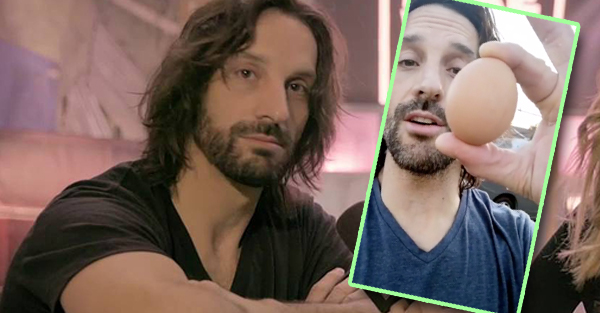 Comedian Mathieu Cyr had a fairly clear message for his detractors
In this period of confinement, the comedian Mathieu cyr decided to launch the challenge #EggChallenge to its subscribers. The goal is to break an egg by placing it in the inner hollow of his elbow and trying to explode it. Even if you are strong, it is not an easy challenge to succeed. You can see in this video Mathieu's new lover trying the best she can to break an egg. We can also see several Internet users succeed and fail the challenge.
Mathieu cyr comments on Instagram: "Hahaaa !!! We created a monster with the #OeufChallenge that we started yesterday! I just keep getting clips from people trying it out! Worse you? Do you fart an egg with your pipes?»
Mathieu Cyr gets criticized
Mathieu posted a lengthy post today explaining all the complaints about wasted food his challenge entails: "I have received complaints for my Egg challenge. These people are right to take offense at a broken egg… because these perfect people NEVER waste anything. Unlike us, these people do not defecate in a toilet that uses clean water. They defecate in a seal which they then spread on their land, with their bare hands, to become one with mother nature. These people do not consume durable satanic toilet paper. They use reusable organic tissue wipes, made in a fair way in Scandinavia. Most importantly, these people NEVER throw food away. RI-IENG PANTE ALL !!
You can have a tacos-sardines-bananas-mussels lunch, just to finish off the leftovers from the day before! These people have never been to a Chinese buffet or an all-inclusive, where you throw the equivalent of a mammoth in food every day. OH THAT NO !! These people go to restaurants where before serving you, we measure your stomach to be sure that it is flush. Worse after their meal, these people walk from table to table to finish the plates of the other customers, shouting to them "YOU COULD EAT YOUR OLD SLICE OF SOFT TOMATO THAT COMES WITH YOUR LUNCH, HEARTLESS !!" When these people see someone drop something at the grocery store, they get down on all fours to lick up the mess. These people are dragging AK-47s in their tank cases, just in case they walk past a wedding where people are pitching rice. These people know that almost 60% of food is wasted in Canada. That's 35,5 million tonnes of food per year. And they know it's all because of 50 people having fun with eggs while in lockdown. These people who denounce us are heroes! This clip is for them. I like You. ♥ ️».
We invite you to subscribe to our Instagram: @petitpetitgamin