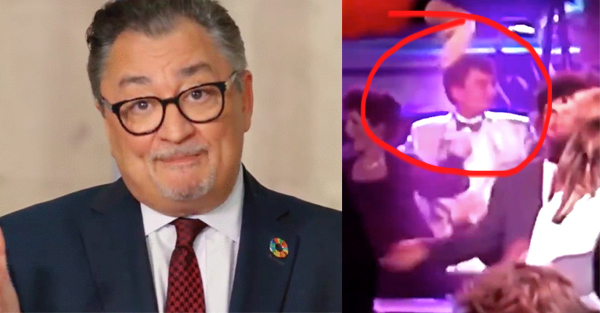 Infoman presents the young Horacio Arruda who dances like a champion in 1990
Yesterday evening, we were treated to an excellent episode ofInfoman and it contained pearls. I have to give the segment a lot of love with Chantal Lamarre, I was cramped (the guy who demolished the motor amplifier, wow !!!). Another highlight is the find where we see the young Horacio Arruda who practices the Nadeau Technique during the Bye Bye of 1990. We can see him in his white tuxedo with a bow tie doing pelvic movements. Infoman presented this excerpt because Dominique Michel and Horacio are found on television together, and 30 years later he collaborates to pass a message of prevention in this pandemic.
If you also want to dance like the young Horacio, you can learn the Nadeau Technique in 3 movements. I'll warn you right away, by clicking on this audiovisual media you will travel in the universe and end up in a new dimension. It's robotics Colette Maher who will show you all this!
Wow! well done @infomantv for the find, @ArrudaHoracio who dances at the Bye Bye 90, it can't be invented! 😂💯😍#infoman #vraidevrai

* Via Mélanie Cardin on Facebook. pic.twitter.com/ThDjqJA6XZ

- Virginie Laliberté (@VirginieLali) March 27, 2020
Several viewers have asked Infoman for explanations
Several viewers reported to the team ofInfoman that he did not respect the recommended distances during the filming of this program. I imagine they were referring to the segments of MC Gilles, the guys from Joe Beef and Chantal Lamarre. Jean-Rene Dufort reassured everyone on the show's Facebook page with this message:
« We are told a lot that we do not follow the instructions regarding recommended distances. First, some segments have been recorded for some time, before instructions were given. Second, know that on TV distances are difficult to assess and everything always looks closer. than in reality, the same way you find your own photos never look like the real thing. So don't worry about us, we stick to the guidelines, take care of ourselves and lead by example. ».
We invite you to subscribe to our Instagram: @petitpetitgamin