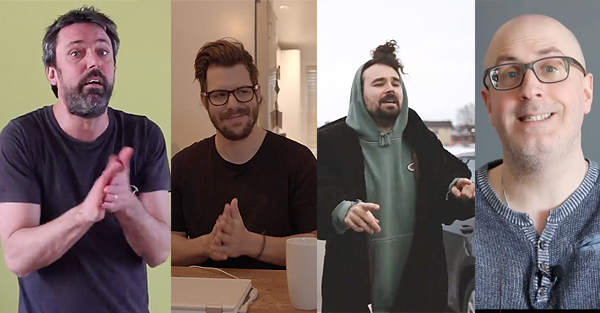 5 creations from the crisis that we received that deserve to be discovered
Since the onset of isolation I have received a mountain of creations from subscribers of Petit Petit Gamin. I find it really hot, we feel that you want to participate in raising awareness or entertaining others during this time when we are at home. I decided to do an article where I share 5 of your excellent creations in order to make them shine on the web. There really is everything: song, comedy sketch, Facebook post… It's such a good time to share artistic creations! Well done everyone!
CORONA TUTO
Jean Marie Corbeil decided to make a pretty original tutorial for washing your hands. He mimics that he washes his hands in an ultra intense way with music and sounds to make it entertaining. It's really well done, I love it!

A joke about the Coronavirus
In this sketch you can see the comedian PO Forget make a joke about the Coronavirus. You can see how it escalates after you publish it. It goes far, very far ... is this whole story going to end well?
9 original tips to save money in this time of crisis
Gabrielle Villemure & Pascal Garneau have made a little guide to saving money in this time of crisis. There is really good stuff, they don't give us cheesy / obvious stuff. It's well done!
You can check out the 9 tips here: https://www.facebook.com/gabrielle.villemure/posts/10221503077950364

the.Panda - It's not the flu (it's the)
Panda just released a new song C'est pas la flu (c'est le). You can see him walking around in a very chilled Super C. In addition, he launches the CORONABEAT Challenge "It's not complicated, I name 3 people, they will have a week to create a video with an original song and they will then have to name 3 other people who will have to do the same. Thissimple isn't it?».
Here's why (and for whom!) Social distances must be respected during COVID-19!
In order to give a concrete example why it is important to isolate oneself, the sympathetic Étienne Gervais decided to speak about his condition. It's important to isolate yourself and not just for the elderly, but also for people in their thirties!
We invite you to subscribe to our Instagram: @petitpetitgamin