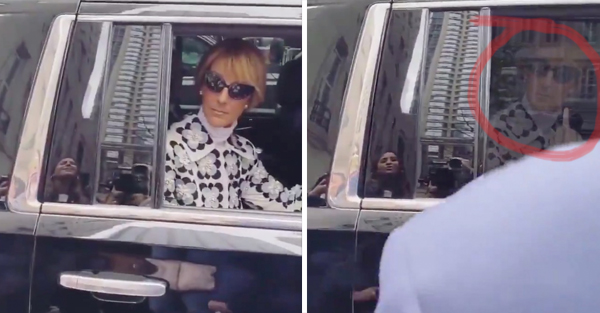 Did Celine really give a middle finger to this admirer who sings for her?
This video is circulating a lot on Facebook and quite astonishes everyone. We can see a young woman singing in the street when she sees Celine Dion. She listens to him attentively before going up her window and giving him a middle finger. God, why Celine adopts such a mean attitude!
The video of the year I'm still not getting over it Céline our Queen pic.twitter.com/xxKvqdqDbx

-. (@ Ferouze213) March 4, 2020
Now the truth
Céline never gave this admirer a middle finger. It all took place on March 4 (yesterday) in front of the Four Seasons hotel in New York, a certain Frieda Solomon, seeing Celine in her car, began to sing. The star asked his driver to stop the car to listen to the young woman. Celine then shake hands and congratulate Frieda. She even revealed what the singer told her next: "Thanks for singing for me". Frieda then replied: " Thank you for singing for me all my life! Such an honor to sing for you Céline Dion ". Phew, our Celine is always the coolest!
We invite you to follow us on Instagram: @jolijolidesign