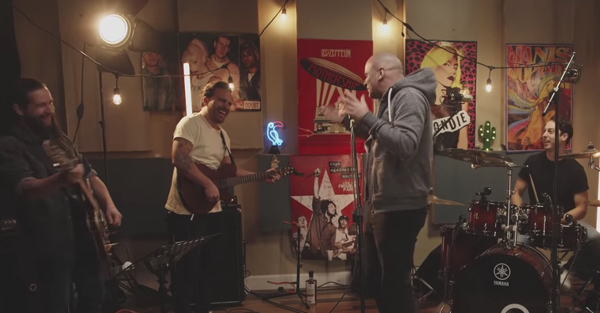 Jam your Top 3 - The podcast where the guests sing 3 songs with a real live band
Jam your Top 3 is the ambitious new podcast from comedian Dave Morgan. I say ambitious because we are far from the 2 microphone / one camera formula. As its title suggests, Jam your Top 3 is a music podcast in which guests discuss their passion for music with Dave and then go sing three of their favorite songs with a real live band! Everything is filmed in the studio Base Bin in Montreal, produced by Alex Desjardins and produced by Obox Media.
Until now we could see and hear Phil roy, David hener et Daniel Grenier. The trailer lets us understand that the next episodes will present us among others Mariana Mazza, Roxane Bruneau, Simon boulerice et Jean-Sebastien Girard. Several other guests will certainly join in the adventure.
In addition to his talents as a humorist, Dave Morgan shows us what he knows how to do on the guitar with his group "Les disponibles" formed according to the occasions of Jocelyn Pelichet (guitar), Guillaume Paquin (low), Sam rose (drums), Mathieu Durocher (bass) and Maxime Lalanne (battery) and sacha bourque (drums).
If you love music and dream to see Phil roy let loose on a song by MxPx, David hener to shout on Motörhead or Daniel Grenier singing Pearl Jam with your son is definitely the podcast for you!
We invite you to follow us on Instagram: @petitpetitgamin