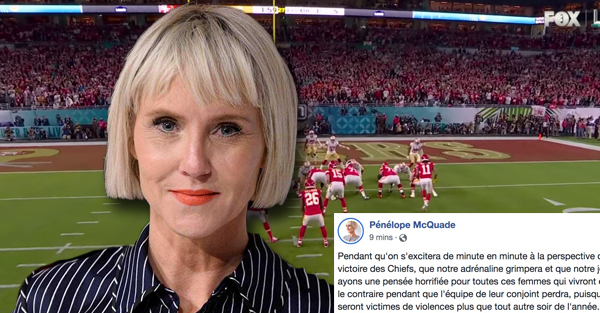 Penelope McQuade shares a sad statistic about the Superbowl
The facilitator Penelope McQuade made a publication to inform us of a very sad statistic. With each end of a significant sporting event (especially at the Superbowl), there is a marked rise in domestic violence. Here is what she said: "As we get excited minute by minute at the prospect of a Chiefs victory, our adrenaline soaring and our joy bursting, let's have a horrified thought for all these women who will experience the exact opposite while the team of their spouse will lose, since they will be victims of violence more than any other evening of the year.».
Radio-Canada sports host Meeker Guerrier commented on the publication, corroborating Pénélope's comments: "So much! Every year when I talk about the game, I make a point of talking about it as much as possible on the air.". We have to talk about it, it's important.