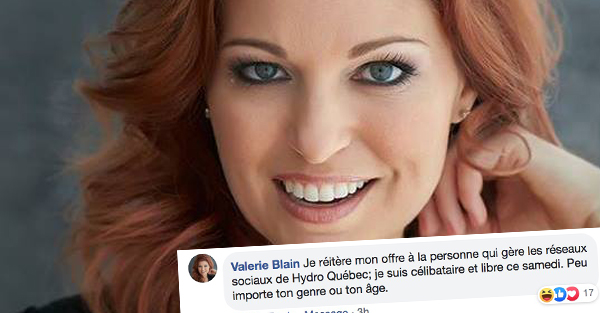 This bachelor wants to have a date with the manager of the social networks of Hydro-Quebec
Earlier in the day, I wrote an article on the excellent work of the managers of Hydro-Québec's social networks. Seriously they are so funny, if you haven't read the article I invite you to do so right away.
This is where it gets interesting. A subscriber to our page left a wonderful comment. Valérie is so charmed by the work of the guys who manage the Hydro-Quebec accounts that she would like to have a date with one of them next Saturday.

There, I was very upset! I absolutely wanted Hydro-Québec to see this request. I tagged the Hydro-Quebec account on Facbeook and I also sent a message to Twitter. Petit Petit Gamin yeah… but I'm in Little Little Cupid mode!

And and and… Hydro-Québec replied:
Unfortunately the current has not passed! But hey, if you're single, the top lady Valérie surely hasn't booked his Saturday yet. I'll let you discover her in her most recent video.

Update: Hydro-Québec commented on the article on our page