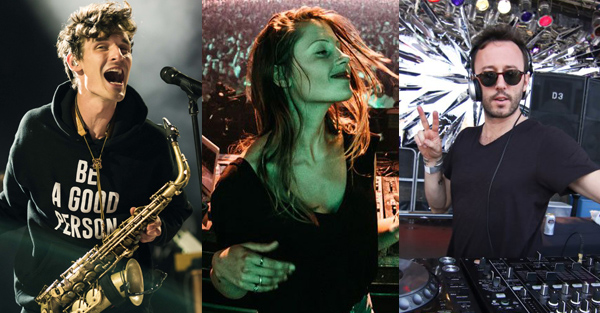 The TOP 3 DJs not to be missed for each of your days in Osheaga!
Our collaborator Marc-Andre Poirier is an informed music lover! You know the kind of guy who takes the time to listen to ALL the bands on a festival poster before deciding which ones to go see live! In short, he is definitely the perfect person to give you excellent suggestions for artists not to be missed on the electronic scene of Osheaga, the Island Scene. Take notes !! And above all, go to the end of the article, because you will find a Spotify playlist with all its choices!
Friday

SARONDE & FAITH MUSSA (14:10 p.m. to 15:35 p.m.)
In my opinion, this list of suggestions starts off strong. First, if you want to have the chance to see two African artists, now is the time since I believe they will be the only ones for the weekend (I trust you to tell me otherwise if I am wrong). They mix all kinds of styles in their songs: traditional African music with foreground percussion, rap and even remixes of more popular songs (like one of the band Rudimentary for example). It is quite rare in electronic music shows that there is a singer on site, but for this special occasion it will be Faith Mussa who will be present to offer us one of the most original sets of the weekend. We will certainly get some of his own live remixed songs. I'm curious to see if there will be any real percussion instruments on stage, but in the end I know the beat will be unleashed!

BOB MOSES (17:10 p.m. to 18:10 p.m.)
This set will be completely different from the one I just told you about. It will be much less rhythmic and dancing, but much more atmospheric as an atmosphere. The piano often directs the melody of the songs and the tempo varies, but never gets really fast. The lyrics are highlighted with choruses that make you want to sing from the first listen. I think this duo is perfect for those new to this style since both members have strong influences in pop music in the construction of their songs. The mixture of the singer's languid voice and the beat that makes you stomp in the background makes you want to close your eyes and live the moment fully. Nothing revolutionary, but totally in the spirit of why we are going to Osheaga.

CHARLOTTE DE WITTE (21:20 p.m. to 22:50 p.m.)
To end the evening in intensity, Charlotte Witte is at the rendezvous. Not so many subtleties in what it has to offer, but rather big techno like you find in clubs in Berlin. She advocates a very minimalist choice with a very fast pace 95% of the time. We are used to hearing a melody explode when the rhythm of the song goes down more and more, but it breaks this reflex by remaining often linear in its descents and its ascents. Frequently, a word or two will be repeated for several minutes to envelop us and allow us to become fully imbued with the moment. The perfect choice if your gang is at the party and wants to experience the Montreal nightlife mood!
Saturday

DR FRESCH (14:55 p.m. to 15:55 p.m.)
First of all, I have to say that his artist name doesn't particularly make me tripped up, but you really have to go over it to appreciate what he has to offer us. His one hour set will definitely touch on several genres of electronic music. It uses house music incorporating a touch of bass drop which makes its sound more aggressive. There is a collaboration with the group The Bloody Beetroots who moves quite a bit ("FKN Face"). The song that made him famous in the UK charts is called 'Gangsta Gangsta', a track that has a touch of old school rap from the 90s. So for those who like music with attitude and bass in the carpet, you will not be disappointed!

VLADIMIR CAUCHEMAR (15:55 p.m. to 16:55 p.m.)
Character. It is not the norm for DJs, but it is one of those who hide behind a costume or a mask. Vladimir Nightmare decided to go for a skull mask. His musical style most often leans for fairly rhythmic house. His most popular song is a collaboration with the singer 6ix9ine (which is too much linked to the criminal world unfortunately) and whose main melody is very unique and I must say that it definitely stays in the head. The flute is also recurrent in the construction of his songs. The voices he uses can range from rap, to rnb or sometimes they are heard in a lower register, a process that is more often found in bass music. Fun fact, he's French.

GRIZ (21:55 p.m. to 22:55 p.m.)
I must say that I would have liked to see this artist in the afternoon in full sun instead of at the end of the evening, but I still consider that he will be able to bring a very nice vibe with his bass drops and its slightly funky grooves. However, you have to like dubstep to fully appreciate what it offers. I must specify that he also plays the saxophone live on stage, which is very popular in this field where live instruments are quite rare. A perfect mix between funk music and bass.
Sunday

CRI (15:10 p.m. to 16:10 p.m.)
The only Quebec suggestion of the article, the music of Cri reminds me a little of the sound of Disclosure in relation to the use of "sensual" voices and the "romantico" subjects of his songs. His intros can be very immersive and often evolve into more danceable beats while remaining suave. At times, he can venture into more trance inspirations. He likes to place a melody in the background of his rhythms. It's "feel good music" for dancing relaxed with friends.

DJ KOZE (17:35 p.m. to 19:05 p.m.)
Alright, the best DJ of the weekend in my opinion. The song "Pick Up" is just insane. There is a sample of the song "Pick Me Up I'll Dance", which is a disco classic. And we can say that his version is now made a classic of lo-fi house. He adds big kicks everywhere and reminds us why our parents loved disco so much. A lot of sampling work, which makes it very interesting. His set is a safe bet and will be honey to your ears. Perfect for anyone who wants to visit the Island Scene without really being familiar with the genre.

AGORIA (19:05 p.m. to 20:15 p.m.)
House music at its best. The song 'You're not alone' is a sure hit on the dance floor. He doesn't reinvent that style of music, but he makes it extremely effective. The choice between him and In Kaytrana will be quite difficult. I will have to go there with the feeling of the moment. I have a hard time predicting what his set will look like since there are very pop songs and others rather classic in the genre or even more deep house. Some more jazzy moments also come to make the whole very intriguing.
Special mention

THE CHEMICAL BROTHERS (Saturday at 21:20 p.m. to 22:50 p.m.)
Ok, I couldn't do an electronic music article at Osheaga not to mention this legendary band. When I first saw the lineup, I really had a hard time believing that Osheaga had decided to go in that direction. Despite the fact that they are old men from the day before, their latest album is so up to date it's disconcerting. I shouldn't have done this, but I listened to their set at G on YouTube and I'm pretty excited for next Saturday let's say. Pretty sure they'll be in my favorites for the weekend. I feel their set will be as impressive as that of Justice two years ago.

En conclusion
Osheaga is an event, which over the years has developed into a destination of choice for a large number of tourists in addition to having become a tradition for people in the Montreal region. Each edition has its own energy and musical direction, but each of my personal experiences has remained extremely positive in my head and in my heart. Every time I buy my 3 day pass, I really wonder if it's 'worth it', but at the end of the day I'm still confident that these 3 days will be filled with unforgettable moments listening to artists that I love, to dance with a smile from ear to ear, to laugh en masse with friends and even maybe get emotional during some groups (Beach House on your mind).
This festival is one of those who try to diversify a lot the musical styles presented in their programming. It goes from rap, to rock, to electronic music of all kinds, rnb, pop and there is even at least one reggae artist every year. Tradition dictates that Osheaga offers plenty of room for electronic music on one of the stages offered to the public (The Island stage). I've had several great times on this stage over the past few years, like the show by Disclosure among other things before they become '' huge '. In recent years, especially thanks to meeting a new friend, I have started to appreciate and discover the world of electronic music more and more. It's very vague and complex as an area, but it's music that offers an energy that is very unique. I decided to go to AIM (electronic music festival) a few weeks ago with this gang of friends to live the experience more intensely and I learned to better define my personal tastes. When I decide to go to a festival, I am used to listening to ALL the groups in the program and my motivation is always there for this edition. After taking the time to get a good idea of ​​the artists I absolutely want to see for this edition, I can say that it was a pleasure for me to share with you in this article my top 3 DJs who will be on the Stage of the Island that are the most worth the trip for each day of Osheaga 2019.