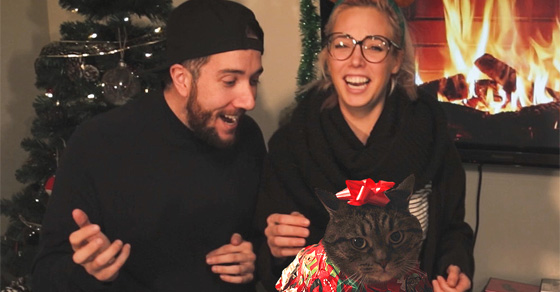 The challenge of packing a cat for Christmas
Loto-Québec recently gave me a great challenge, to create a stunt from the concept of one of their lottery tickets.I will therefore shoot 6 capsules for this first series over the next few months, it should be quite fun and fun . I don't want to say too much, but there is a capsule that will be shot this summer which is a concept that I've been wanting to do for years, yes!
To start this top collaboration, I decided to put the Gift Tags tickets in the foreground. So I realized the challenge of packing a cat for Christmas. Is it really possible? I had seen this GIF and I thought to myself why not give it a try. Of course the cat had to stay wrapped up for a while so that I could put theGift Tags on him. I invite you to use this lottery ticket this year to identify your gifts like I did. The person who receives the cat will also have a scratch card which can win up to $ 25! It's a double water "cat"!
I have to say a big thank you to Sarah who helped me with the challenge and to Gaston for being such a beautiful cat and for being patient with us haha!

This article was produced in collaboration with Loto-Québec. All opinions expressed are my own.