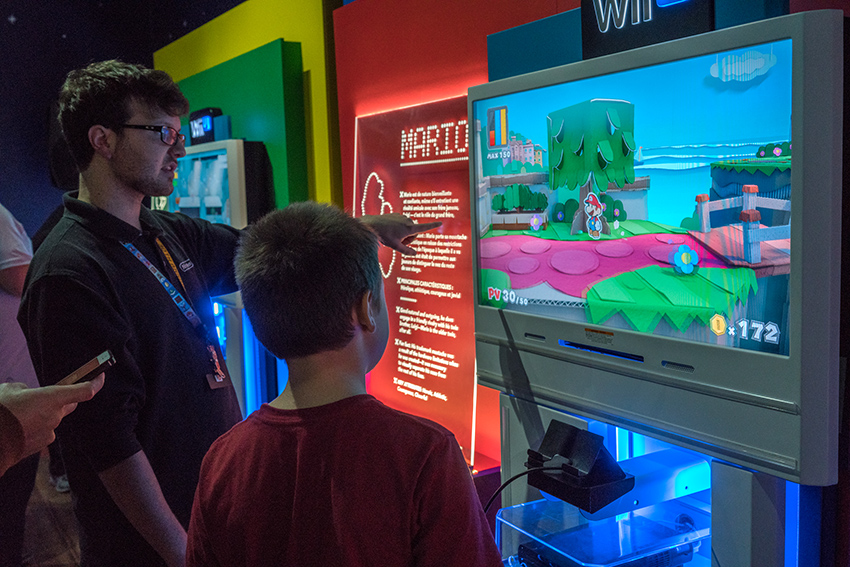 An exhibition for Nintendo fans is currently taking place in Montreal
Superb initiative of the Musée Grévin Montreal to collaborate with Nintendo of Canada to create the exhibition Super Mario and his friends: The Expo!. I have spent so many hours sitting in Indian playing Nintendo in my life, this is definitely my suggested activity to do. From October 7, 2016 to January 8, 2017, you will be able to fulfill your little geek side by going into the world of the plumber in blue overalls. If you are one Nintendolover like me, you definitely want to know more about the whole history of the world of Super Mario as well as the characters of the games. Plus, the exhibit covers the history of Nintendo's business, it's great for finding out what they're doing now and in the future. I admit that I would have really liked to work for Nintendo, it seems to me that it must be pretty cool to be in their gang.
Several positions to play are available for the whole family. You will be able to play on the Wii U at Super Smash Bros, Mario Kart, Super Mario 3D World, Splatoon, Yoshi's Woolly World…and so on. On the Nintendo 3DS, visitors will be able to enjoy games such as Kirby Planet Robobot, Yoshi's New Island, Donkey Kong Country Returns, Super Smash Bros, Mario Kart 7 and Super Mario 3D Land.
The aim of this exhibition is to introduce the world of Super Mario, but also to share this fun world with the youngest. I think that several parents will bring their children to share the world of Mario games. It is certain that the exhibition is a success, the spokesperson for Super Mario and his friends: The Expo! is my friend Denis Talbot.

As Pierre-Paul Trépanier, Managing Director and Senior Director of Nintendo Canada, says: "Nintendo's mission is to make people smile". So it is with a big smile that I circle in my diary next weekend to go to this exhibition. Well done Musée Grévin, I will also take the opportunity to see the 120 wax statues and the 8 other interactive universes that you offer.
You can find out more about Super Mario and his friends: The Expo! by visiting the site of the Musée Grévin Montreal.