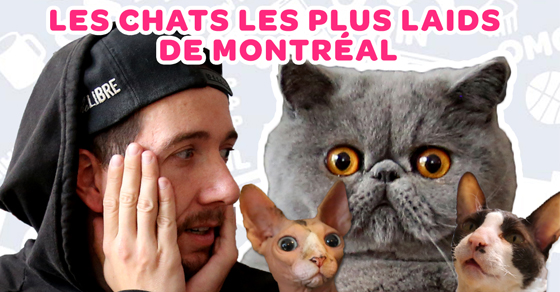 The 3 ugliest cats in Montreal
Here is the first edition of my theme of trying to find the ugliest cats in Montreal. Can a cat really be ugly, that's a great question. In an effort to find out whether or not a cat might be ugly, I visited 3 cats that were supposedly ugly ugly ugly.
I met Pepette the comedian's girlfriend chat Dave Morgan, then I visited Agathe the cat of the top lady Emilia to then end up with the comedian Francois Boulianne to discover Bruce Wayne!!
Are cats really horrible? Not really, there are 2 out of 3 that I finally found super cute! I would not say the name of the one I found ugly ugly ugly so as not to hurt anyone. You can vote for the one you liked the most in the comments on Youtube, I will give him a champion's medal. I also take this opportunity to invite you to follow my Youtube channel, I risk making a lot of videos in the coming months!