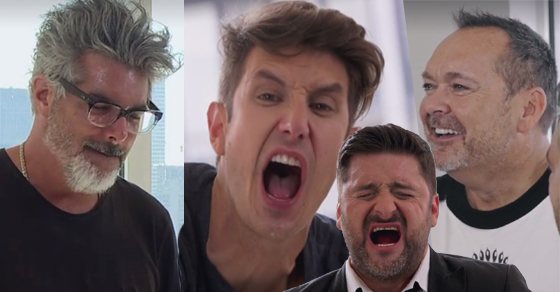 Quebec stars go crazy after eating an extremely hot pepper
Oh how I love the web series The spicy interviews, but I really like it. Animator Nicolas pinson decided to receive public figures from Quebec at its talkshow and ask them questions after eating an extremely hot pepper. It's burst, the big mess and ultra entertaining! For having already tried it with Nico, I can guarantee you that there is nothing rigged and that it is really intense.
It's just hilarious how the stars react when their mouths are on fire. Jeremy Demay starts banging on the table doing yoga poses, Jean-Michel Anctil starts to cry like a baby and Réal Béland make a multitude of moans.
Watching the first three episodes I had a big smile stamped in my face as soon as they took their first bite. You say to yourself "and boboy that the guest really does not know what he has just got into!". In addition, Nicolas asks such awkward questions, it's big candy.
I don't follow a lot of webseries on the internet, but I admit that I am waiting for the next episodes of this one. In the coming weeks, Nicolas will be entertaining in his kitchen: Philippe Bond, Les Denis Drolet, Valérie Blais, Antoine Vézina and Maripier Morin (I admit that I am really curious to see his reaction). I would really like that one day Nico welcomes Normand Brathwaite, there would certainly be a mountain of jokes to make and puns with Hot Pepper.

You can find all the videos on the page of Nico is cooking you!