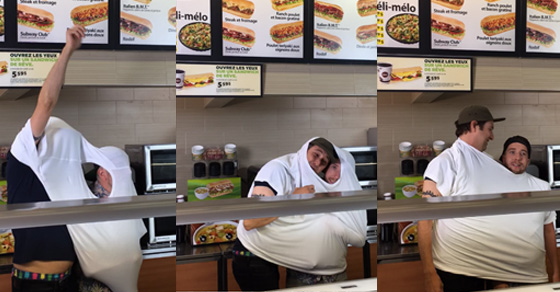 The bottom of the shoot of 2 guys and 1 sweater to make a SUBWAY sandwich
I recently showed you the video I made with Bob the Chef where we were in the same sweater to create my version of the Korean BBQ pulled pork sandwich in a restaurant SUBWAYMD. During the shoot, Bob and I made the whole production team laugh with our silliness. I have no choice but to admit that Bob is a good friend of mine, and when we want to amuse people, we are pretty efficient. Here's why, I decided to film behind the scenes to introduce you to some bloopers, a few jokes and the film set.
It was not easy to fit both at the same time in the huge XXXXXL sweater. We were stuck all afternoon, it was a good challenge for 2 edgy like us. Plus, we had fun tickling the other when he had to talk to the camera. The whole film crew liked the concept of 2 guys and 2 sweater to make a sandwich, I think they laughed at us all day.
I have no choice but to add in this article that the people of SUBWAYMD are very cool to give us carte blanche to do our little little challenges. Here is the little video to show the atmosphere on the set: