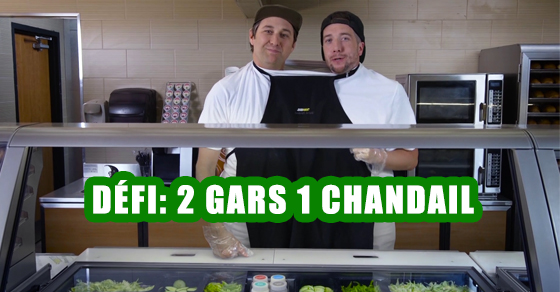 Bob the Chef and I took up the challenge of making a sandwich in a SUBWAY restaurant in 2 guys 1 sweater mode
Restaurants SUBWAYMD recently asked me to create my version of the Korean BBQ pulled pork sandwich. It was with pleasure that I accepted the invitation with my friend Bob the Chef. To add a little spice, we decided to do it in a 2 guys 1 sweater version. I don't think I've ever been so close to a friend of mine for so many hours (the shoot took 10 hours anyway).
During the filming, we had a few surprises. Just putting on the sweater at 2 was a challenge, we wanted to get our head out of the mouth at the same time. Then we noticed how Bob the Chef is really taller than me. No choice to find a small wooden box to make me grow taller. I filmed behind the scenes of the shoot; I will tell you about it soon in another article.
I invite you to taste the Korean BBQ pulled pork sandwich, honestly it's really good in your mouth! And if you're brave, you should try eating it with a friend in the same sweater. If you do this in a SUBWAYMD, I absolutely want you to send me a picture haha!