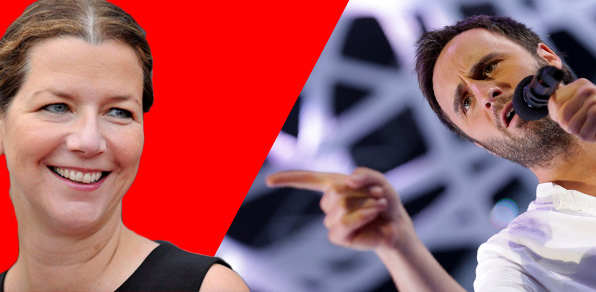 Sophie Durocher defends herself and responds to Louis-José Houde
I don't think we should invite Louis-José Houde and Sophie Durocher to the same table. Last Thursday, the comedian made a Facebook post where he was very unhappy with the article Louis-José Houde's big cabin made by journalist Sophie Durocher of the Journal de Montréal.
The next day, Sophie wrote a post to defend herself and give an answer to the favorite comedian of Quebecers. It begins with "Louis-José Houde did not like my column The Big Cabin of Louis-José Houde…"And then give a compliment to it by saying"Louis-José Houde doesn't have to be shy about making so much money, he didn't steal it. He is an extremely talented artist who, in addition, works very hard. Talent and hard work deserve a payout accordingly. ".
LJ made 2 criticisms of Sophie Durocher, the first concerned the dissemination of the sale price of his house. "First, about my anger at the publication of the sale price of my property, you write that I was "quite proud" to talk about the money generated by my million tickets sold in my career. I want to inform you that I have not discussed this money absolutely nowhere. Never. At no time, in any way, under any circumstances.» Sophie's reply: «When he says he has never discussed "the money generated by his million tickets sold in career", he takes us (a little) for idiots. Send a press release to the media to get the hang of it for selling a million tickets, what's that called?»
LJ's second reproach was: "Then understand that it's a lot less about money and more about privacy. The burden of my reaction was more on posting photos of my property… I am a discreet person and it is the lack of privacy that infuriates me. Just like when you imply that I "let the Unlimited Access cameras come into my privacy." " It is not so. They followed me there on stage. We can see a close shot of my front door and a corner of my garage. Absolutely nothing to do with privacy and, above all, a thousand miles from seeing photos of all the rooms in your house posted on the web, including the one where you sleep at night.» Sophie's replica. "Third, for someone who wants to preserve their privacy at all costs, I invite you to go and see the beautiful images of their immense chalet, their private lake, their beautiful glass living room, their office filled with shelves of books, its beautiful kitchen and its coffee machine, its pontoon so wide that you can play the drums on it, all of this shown in the documentary Little details of the comic for which Monsieur Houde let the cameras enter all kinds of areas of his intimate intimacy. ".
I let you decide who won this debate ...