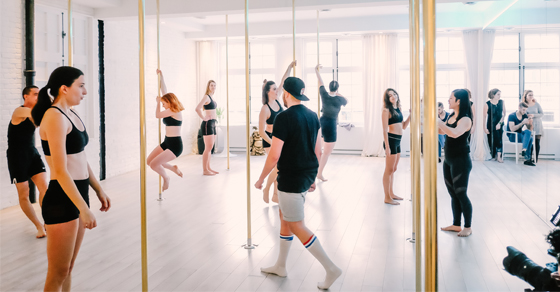 Pole Dancing in Old Montreal with top ladies from DULCEDO
It's the new fashion / trend right now to take pole dancing to get in shape. I admit that it's a much more fun alternative than doing a stationary bike or even a series of push-ups. I had no choice but to take my little little sports kit out of my closet and try this top activity. Accompanied by the agency's top ladies Dulcedo Artists and my friends from Old Montreal, I went to school Milan Pole Dance Studio to take a course.
Honestly, I had great pleasure all afternoon during this shoot. It must be said that I was well surrounded with beautiful people and a really nice teacher. After the first movements, I had no choice but to notice that I had to work very hard to succeed in the exercises. Let's say I'm not that flexible as I thought haha! I would do this activity again anytime, it's still a lot of fun!
I also took the opportunity to chat with Isabelle, a teacher in the studio, to suggest other good places to do physical activities in Old Montreal. She strongly recommended that I go to Yoga Old Montreal, one of his favorite places in the neighborhood as well as to take a trip to Scandinave Spa Old Montreal to relax.
I also invite you to discover the other capsules in the series #Gensduvieux!