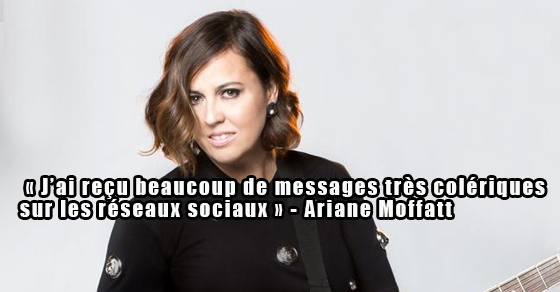 Since Sunday, Ariane Moffatt has received a ton of very angry messages on social networks
Ariane Moffatt has received a mountain of discontent messages on Twitter and Facebook since last Sunday. The coach of La Voix, the mama, gave a score of 60% to the participant Amélie Nault, allowing her to move on to the next stage of the competition without the public vote really counting. The viewers had yet voted in majority for Tim Brink giving him 48%.
We know that people on social networks can be very mean, it didn't take long that Ariane received several very angry messages. The singer explained by making a status on Facebook:
Hello everybody

Since Sunday, I have received a lot of very angry messages on social networks.

I tried to stay away from them because they hurt me and the public opinion is very important to me.

Since the beginning of La Voix, I have exercised my role of coach (and not of judge) with as much integrity, sensitivity and objectivity as possible.
Sunday, I put together numbers for 3 candidates that I love, that I respect and that I chose in my team for their immense talent. I am happy to have designed strong numbers with them, in their image.

Once this was done with all my heart, Sunday, I also had to note the numbers of these 3 candidates according to my tastes, my artistic values ​​and the potential that I saw for each of them in this competition.

I see that many of you disagree with my vision.

I'm sorry, but does it deserve to be so fiercely criticized?

I admit that I had no idea that the public's perception would be so different from mine, but I accept my choice made in accordance with the rules and in good faith.

Come on, let's continue, we still have plenty of great music to do together.

Sincerely, Ariane.